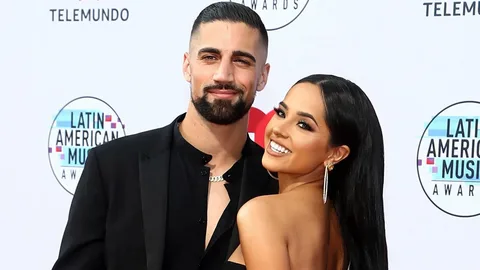 Fans were shocked on Friday when the 25-year-old Becky G announced via Instagram that she's now engaged to her longtime partner and soccer player, Lletget.
Becky G captioned the post, "Our spot forever." It had pictures of Lletget, 30, proposing to her on one knee, the couple cuddling, with a selfie in which they joyfully flashed her engagement ring. The singer discussed her relationship with Lletget, explaining how they always continue to keep things brand new and fresh.
As per Becky G., many people believe that relationships just occur, but this is untrue. She believes that falling in love is one aspect, but staying in love is quite another.
The singer declared to PEOPLE in October 2021 that it was nice to witness him share a bond with her family and that they connected through their shared Latinx identity.
Why Is Becky G's Six-Year Relationship Ultimately Special?
The singer of "Shower" claimed that Sebastian speaks to Becky G's family as she speaks and that she finds it sweet. She continued by saying that when someone can relate to your tradition and culture, there's just a special connection. There are still many disparities within the Latinx culture.
Because he began working at a very young age, they have a lot in common. They are aware of the sacrifices they make for their families and themselves. Simple things were what kept them going during the outbreak.
She concludes that she cooks more today than ever, and that's a lovely thing. They socialize, watch movies, and meditate together. She won't want to refer to it as a "dream scenario" since nothing in life is ever perfect. If she were to put her heart into anything, especially a relationship where many aspects of her life are already strenuous, this would be it. This is because they have such deep respect and love for one another