One day in 2006 Miguel Bosé sang to the then candidate for president of Chile, Michelle Bachelet, that he would love her "as it is not allowed". He accompanied her to his campaign events, declared himself a "fan" of her and even admitted that every time he met her he told her "how beautiful she was". But that Bosé is another.
On February 22, the singer, dressed in a white guayabera -like many of the other colleagues who went up that day to sing at a charity concert in Venezuela, in support of Juan Guaidó and against Nicolás Maduro-, brought out the new Bosé, who had been brewing for months in controversy in Spain, exploded: "Move your buttocks here and assert the authority you have, or else you are useless for this, it was Michelle." A few days later and without entering into discussion with the singer, the now UN High Commissioner for Human Rights denounced torture and executions in the Maduro government. He did not care, he addressed her again as "coward" and "accomplice". Some statements for which he had to issue two statements asking for forgiveness from the former president and the Chilean people.
Against Nicolás Maduro he went on to say: "Maduro, you piece of bastard, we knew that you are incompetent, ignorant, phony, dictator, puppet, corrupt, narco, coward, criminal, but now we already know that you are the criminal murderer of the Venezuelan people. That God curse you and strike you down. And soon !!! "
It was not the first time that the public had seen this enraged Bosé. Since he left Spain and moved to Mexico, after his scandalous break with the sculptor Nacho Palau, and a legal confrontation with him for the custody of his four children (two of them have moved with the artist to Mexico), Bosé, a reference International for Latin America, it has shown a hard, hermetic image and very different from the warmth to which it had accustomed the Latin American public. The criticism among the Mexican press only took a few weeks to arrive.
At the end of March, the Mexican journalist from the heart, Shanik Berman, denounced that the Spaniard had assaulted her at a dinner with communicators. They were at an event organized by Televisa to present the new program Little gigants, a children's dance contest where Bosé is part of the jury with the star of Mexican soap operas, Verónica Castro. The organizers had warned the press that it was forbidden to record with the mobile phone during the dinner: "Miguel Bosé hates that they are recording it, don't do it," another newspaper attendee told that newspaper, preferring not to give his name, about the warning they received. "She ignored and recorded, which made Miguel very angry," adds the witness, who although he was close to that scene, assures that he did not see any explicit aggression on the part of the singer.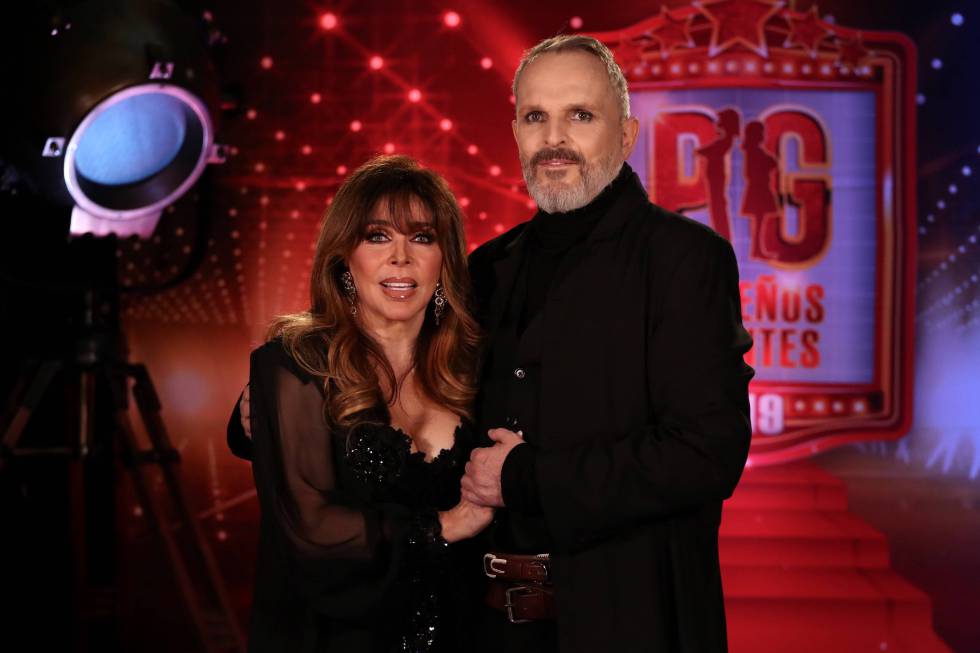 That night the artist got up and left. For most of the attendees, that gesture was an affront to the Mexican press. An affront that did not surprise so many, because he had been reluctant to deal with the media in this country as well. He hardly gave press conferences, not even at events with foundations, little or nothing is known about his private life in Mexico and the television network he works for (Televisa) has him shielded. No media assistant is allowed to take photos or video during program recordings Little gigants, much less approach him.
From this side of the ocean they don't understand where this new hostility comes from. "Here is what we call a classic character, who is part of popular culture. He would be like our Emmanuel or Manuel Mijares. He is not the big star, but he is still an international benchmark," says Gilberto Barrera, responsible for Shows on Televisa . A "classic character" in the pink press jargon means he doesn't have a horde of paparazis chasing him down the street, either. The only photo that was stolen from him was for the magazine TvNotas, and in the sector there is talk that it did not cost more than 20,000 pesos to buy it (about 935 euros), a reasonable price for which the paper usually pays for a star. couché. And the image did not even occupy the covers of that number.
His presentation at the Latin Grammy Awards in November caused some alarms to go off. "Miguel Bosé is not well", "What's wrong with his voice", "Nothing is understood," commented some attendees at that award ceremony. Also, many comments reappeared on networks that went so far as to make the concern for the singer's health go viral. In January, after two months of absolute silence, the artist himself responded to criticism on his Instagram account: "I'm on vacation, I'm calm, I'm happy and I'm not going to answer any nonsense, okay? Happy New Year."
Except that in early October it appeared in the photocall from an exhibition in Madrid, where he barely made statements, Miguel Bosé has not visited Spain for more than six months. Her presence at her mother's trial in March – because of the alleged misappropriation of a work by Picasso – was solved by a videoconference from Mexico. His most anticipated attendance, however, was the gala against AIDS, held on November 20 by the Fight Against AIDS foundation to raise funds for research into this disease. Traditional master of ceremonies of previous editions, the singer was the great absence of the night. Jesús Vázquez was in his presenter position.
This week he has turned 63 again involved in controversy. The latest publication on their social networks this Thursday has again pointed against Bachelet. In a short video, Bosé appears in a dark room; He lights a candle and whispers: "Michelle, Michelle …". He is referring to the blackout that Venezuela has been experiencing for almost a month, but in case there was any doubt, he added: "He is not. He left …- Pa Caracas? -Noooo !!!! Pa México !!! -What , if where I had to go is to Caracas !!! – Well, I don't know. # BacheletDondeEstás ".