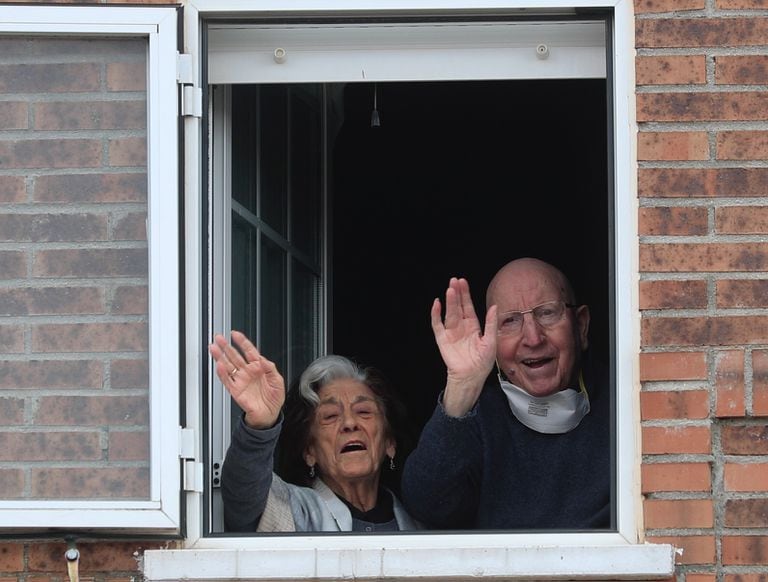 70 years have passed since one day, at the festivities in Valdelageve (Salamanca), José Prieto Cerrudo got on a mule. He had come to town with his brother from Béjar, 30 kilometers away, to earn some money at parties. He played the clarinet, his brother the cymbals. José saw the mule and got on it to get the attention of Guadalupe Matas Hernández, who had gone to the fair with a friend. "The mule's name is Cana, and it's mine," she said. With the kid on top, the animal leaned forward, lowering its head, and José shot out hitting himself with a beating. That is how Guadalupe and José met, who began to go out between walks first and letters later, because Guadalupe, like many girls in her town, went to serve a family in Madrid. They were finally married in 1955, they had their first daughter that year, then the second, then the third, and they continued to have babies looking for the boy José wanted. "Look at the one you have messed with for wanting a child," she said one day. It was 1971. Guadalupe and José were the parents of seven girls.
The seven women (Maite, Rosi, Irene, María José, Pilar, Maika and Bea) have been in suspense until Monday, March 30, the day their parents left the hospital and were able to return to their home in Alcalá de Henares, in Madrid. Guadalupe and José are 88 years old (he turns 89 this month) and have overcome the coronavirus. They have done so in an age range in which the Covid-19 in Spain has a lethality of 22.2%, and with the aggravating circumstance that José suffered a stroke in 2012 that left him with serious physical consequences. It was he who raised the alarm on March 4 when he began to cough more than usual. "The next day I took him to the doctor and he prescribed antibiotics," says Rosi, one of her daughters.
On March 8 there was a great family celebration at the Prieto-Matas' house: Guadalupe and José celebrated 65 years of marriage. He continued to have a fever and headache days later despite the antibiotics. He went to the hospital in Alcalá, where his admission was decided on Saturday, March 14, the first day of confinement, at the Red Cross hospital in Madrid.. He had tested positive for coronavirus.
In order not to be alone, Guadalupe went to live with one of her daughters in Madrid. There she began to have the same symptoms as her husband and was finally admitted, also positive for coronavirus, to the Red Cross hospital. The two were on different floors. "They missed each other, they don't know how to be apart. My father, especially. My father is very cuddly, he needs her with him, "says Rosi. José asked, please, that Guadalupe be in his room. His doctor, Jesús Lacasa, agreed. If the two, or one of the two patients, is very serious, they prefer not to reunite them: the idea that the state of another worsens and they have to separate them, plus the uncertainty of not knowing what is happening, is devastating. But it was not the case. "When they are in different rooms, you are constantly thinking about how your partner will be. They are married couples who have lived all their lives together, they know that the other is wrong and they do not care about themselves, they only care about how the other will be, and not knowing it makes them despair. Our policy is to bring them together as long as their health, within the disease, does not involve risks. In this case, Guadalupe was better and more active than José, who was sicker. " So much so that when she could have been discharged, she replied that she would only go with him.
Older people are cured. The majority. But how does it come back? "If you are a person who returns to a family environment, or to your partner, where nothing has changed, you will return with more strength and more joy because you return to your environment. It is a very tough generation that has overcome from a civil war to hunger, misery, the death of brothers … ", says the head of Geriatrics at the Red Cross Hospital, Javier García Pavón. Its center has discharged dozens of people in recent days, including María Milagros Martín Diez (78 years old), Joaquina Canela García (80), Rufina García Bardera (90), Felipe Mata García (87) or Manuel Monguell Rivas (80).
Also to Adoración González García, a woman from Sisterna (Asturias) who is 96 years old. Widow of Manuel Gavela and mother of three children, Ramón, Antonio and Mari Carmen. Good health, active, did gymnastics until a few years ago. Weeks ago, she fell out of bed in the Meco residence where she lives, and the small wound took her to the ER. There, after testing, he tested positive for coronavirus. 26.7% of people over 90 years old die after being infected. No Adoración, a woman who in 1948 emigrated to Madrid from Asturias with her husband and without a penny, who raised three children and learned the trade of hairdresser to start a business on the Paseo de Extremadura, Peluquería Dora. He saw the 20th century go by and is watching the 21st century go by. "Understand us, we got into the worst. There was a certain chance that he would die. But he was always in good health, he had good analytics. Our father also passed away older, at the age she is now, "says her son Ramón.
Adoración has returned to the residence and is there in quarantine after her discharge, waiting to see her family. It was not the day, nor was it her. EL PAÍS interviewed Adoración in 2009 because that year he turned 60 going to the tail of the sales. "For me, who is the oldest, I would get up at five in the morning to go on sale when I was very young. I remember warming up in the queue at Galerías Preciados, always one of the first, with a campfire that the others who were waiting were also improvising, "says Ramón.
José and Guadalupe, who live confined to the top floor of their house, went out to the window this Sunday to pose for the photographer of this newspaper. "We also thought that things could not go well, especially for my father, who was already feeling bad. But you can, of course you can: most can, "says her daughter Rosi.
When José married Guadalupe, they went to live with his parents, where his eight brothers also lived. There were 12 living there. And he went to Madrid recommended at the airport by an uncle of his; in Barajas he worked as a signalman and a boot man. He also sold clothes in the villages, and sold gold. "He worked all his life of whatever it was and it took to get us ahead, he was outside and she was inside, because mom had to take care of the seven of us," says Rosi, who remembers the advice she gives her parents at family meals. : "I always tell him that they had to have stopped in the second, that by chance it's me. The third says that for her three was the perfect number. The fourth believes that four came … ".
Information about the coronavirus
– Here you can follow the last hour on the evolution of the pandemic
– The coronavirus map: this is how cases grow day by day and country by country
– Questions and answers about coronavirus
– Guide to action against the disease
– In case of symptoms, these are the phones that have been enabled in each community
– Click here to subscribe to the daily pandemic newsletter