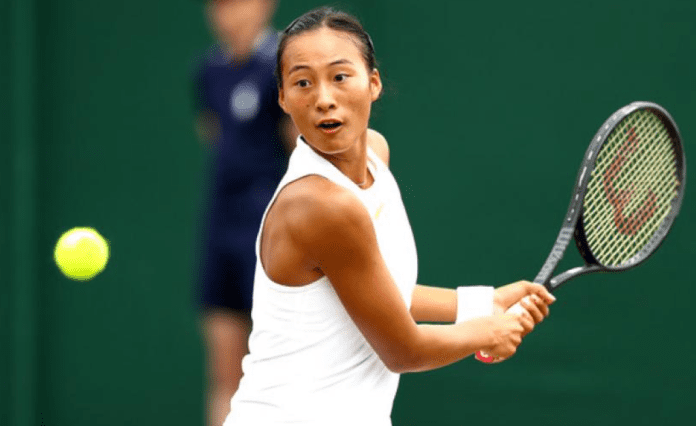 On Monday, May 30, Zheng Qinwen of China lost her match against Iga Swiatek of Poland due to menstrual cramps in the fourth round of the French Open after winning the first set in a tiebreak.
Zheng Qinwen To Fight Back Stronger And Harder Than Before
The 19-year-old Chinese was determined to win the match and cause a major upset when she took over the opener with 6-7(5). She had no pain during the first set but had to take a medical time out at 3-0 down in the second set. She had her back massaged on the court and then had to leave for the locker room. She returned with her right thigh heavily strapped. Unfortunately, she lost the match 6-7(5) 6-0 6-2 against Swiatek who is currently ranked 1 in the world. Zheng, who is ranked 74 globally, told the reporters that her stomach was aching terribly during the second set along with her right thigh which she had to tape up. 
Zheng Qinwen in her post-match interview says that it is just the girls' thing, the first day is always so tough and to play a tennis match along with that severe spasm is extremely difficult. She couldn't go against her nature. She wished that only if she would have been a man, she wouldn't have to go through that agony. 
Zheng made her Grand Slam debut at the Australian Open this year and had tried her best to compete on the given day, but her body didn't allow it. She was happy about progressing to the second week.
Zheng Qinwen claimed to be happy with her overall performance and she was quite content to play against World no 1. She could have enjoyed it more if it wouldn't have been for the stomach ache like running a little better and hitting the ball harder, to put more effort on the court. It was a pity she couldn't perform to her 100%. She wishes that next time when she plays, she stays in perfect shape so that the competition happens on equal terms.