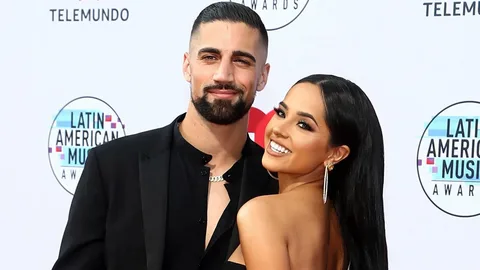 Becky G attended the iHeartRadio Music Awards of 2023 on Monday evening without her engagement ring which is probably left behind at home.
Just after a few hours Sebastian Lletget, her fianće revealed crossing those lines which he should never have crossed, walking solo on the red carpet we see Becky G dressed in a black gown designed by Julien Macdonald which was paired with lots of bling.
While a pile of gleaming rings was worn, what was absent was the diamond ring gifted by Lletget at their engagement. Becky G received an award for the song Mamiii at the ceremony.
Finanće Of Becky G Has Been Accused Of Cheating
The appearance of Becky G at the award ceremony came after a week when Lletget was charged with cheating by an account on Instagram. The admin of the account has claimed to have hooked up in February with Lletget.
The account holder took the matter to the Instagram story and wrote in Spanish which was translated into English that the user will be uploading videos of the night that took place at the nightclub at Shoko and the user claims to have been present with the fianće of Becky G.
The account holder also claimed that they could not upload all the videos which have now become alleged proof since some of the videos are very intimate to mention in which one has been shot with Sebastian practically naked.
The person behind the screen has furthermore shared the alleged audio recordings and the alleged DMs. The 30-year-old Sebastian Lletget on Monday took this to his personal social media platform and apologized publicly for the indiscretion caused by him and left without providing further information.