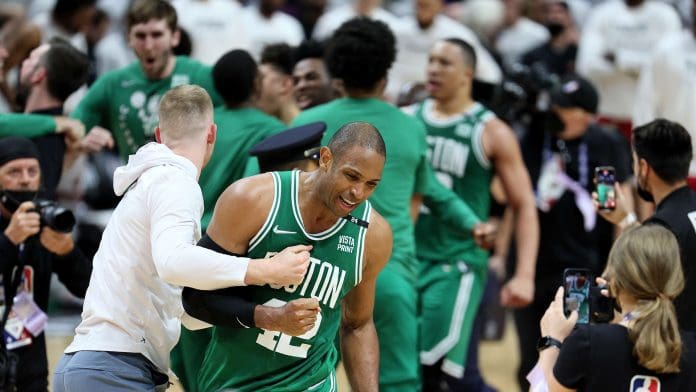 Although the Boston Celtics haven't found their way to the finals easily, they have finally made it to the top. At the end of a tremendous seven-game series in the finals of the Eastern Conference against the Miami Heat, they can proudly say that they have returned for their crown.
With quite a few impressive performances by Jaylen Brown and Jayson Tatum, Boston went on to win the third game at the FTX Arena in the series- with a small margin of victory of 100-96. Needless to say, playing before their home crowd was definitely a much-needed adrenaline boost as the crowd screamed themselves hoarse for their home team.
Boston Celtics Clawed Their Way Into The NBA Finals
Ime Udoka, the coach for the Boston Celtics stated that the entire road was filled with problems and obstacles. And somewhere down the line- it felt like the case. For the first time in over a decade, the Celtics have advanced to the NBA Finals- where they will end up facing the Golden State Warriors- spearheaded by a rejuvenated Steph Curry.
The series would start on Thursday at the Chase Center in San Francisco. The difference in the experience between the two teams has been quite well-documented. The players for the Warriors have played 123 games at the NBA final, whereas the Celtics players will be playing their first.
To reach the finals, the Boston Celtics had to put their all on the line- after what seemed like a truly disastrous start. They went from having a 13-point lead with around 3 minutes remaining to almost crashing their dreams at the hands of Jimmy Butler who almost pulled off a transition three-pointer- which could have given Miami the opening they wanted. 
When the players for the Boston Celtics saw Butler coming up, they simply had one thought in their minds- that he missed. Jaylen Brown, who ended the game with 24 points in 43 minutes explained that when Butler hit the shot, he simply prayed that it didn't get the opening for Miami.