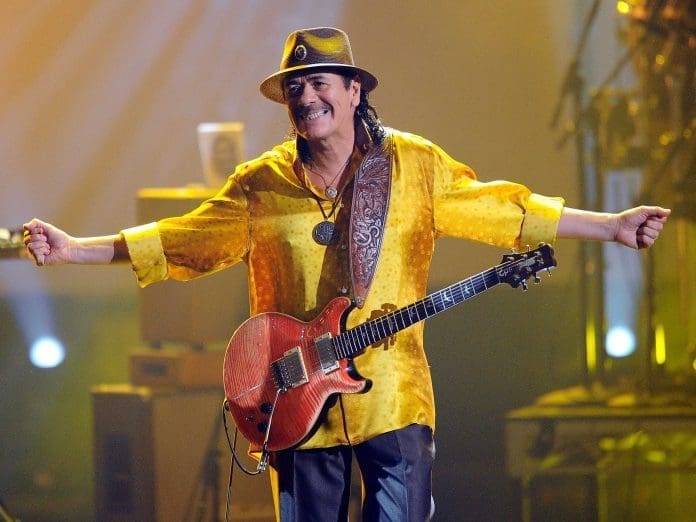 Carlos Santana is one of the biggest names in the history of modern music. He is considered to be a modern-day great and is admired for his impeccable musical prowess. His exceptional talents have earned him a lot of fans across the world. However, the recent days of the musical legend have not been going well. He has suffered from extreme exhaustion resulting from the heat recently. The condition of the musician was so severe that he had to be taken to the hospital. The incident happened recently in Michigan. Carlos was performing at a concert when he started to feel uncomfortable suddenly. However, the star did not pay much attention to it and continued with his performance.
After continuing for a short period, Santana began to feel extremely unwell and had to stop his concert midway. Immediate medical attention was given to the musician as he was rushed to the hospital. The doctors, after examining the star, stated that he was suffering from acute dehydration and heat exhaustion.  As soon as the news was made public, fans and followers began to express their concerns. They prayed for Carlos' well-being and asked him to get well soon. After being admitted for a couple of days, finally, some good news was shared. Carlos Santana has been reported to be doing well and is currently out of danger. Let us learn more about the story in detail below. 
Carlos Santana Health Update 
The sudden hospitalization of Carlos Santana left everyone dumbfounded. Most of the fans started panicking as to what exactly caused his admission into the hospital. However, recent good news seems to have calmed the nerves of everyone. 
Michael Vrionis is the manager of Carlos Santana. He issued a public statement saying that Carlos was alright now. He has responded to the medication quite well. He also said that the musician is currently under precautionary observation.