In 19 career mixed martial arts bouts, UFC middleweight world champion Israel Adesanya has never tasted defeat. In 13 career MMA bouts, Paulo Costa has never tasted defeat.
As these two unbeaten sensations climb into the octagon and clash on Sept. 26th at UFC 253, clearly, something has to give.
With this fight looming on the horizon, Bookmakers are giving the edge to Adesnayna in the UFC 253 Las Vegas odds over Costa. Bettors will get a -165 favorite's betting line of Adesanya. Costa carries the +135 underdog odds.

This fight will mark only the second time in UFC history that two undefeated male fighters will compete for a title.
The two unbeaten middleweights were originally supposed to be paired in the cage at UFC 248. However, an injury to Costa forced him to pull out of the bout. Instead, Adesanya faced former interim title challenger Yoel Romero. A world freestyle wrestling champion and a 2000 Olympic silver medalist in wrestling, Romero lost via unanimous decision.
The location for the Adesanya-Costa fight has yet to be determined.
The Skinny On Adesanya
His five-round decision over Romero was the first official defense by Adesanya of his 185-pound world title. Nigerian born, Adesanya now calls New Zealand home.
He originally claimed the UFC interim world middleweight title belt by virtue of a victory over Kelvin Gastelum at UFC 236. That epic bout eventually earned the pair a fight of the year designation from the promotion.
Adesanya, 31, known as The Last Stylebender, claimed the outright UFC world middleweight title bout when he knocked out champion Robert Whittaker in the second round of their undisputed title fight at UFC 243.
The Skinny On Costa
Costa, 29, has captured 11 of his 13 victories via knockout. By contrast, Adesanya has won 14 of his 19 verdicts by KO. Costa's five UFC wins have been highlighted by four knockouts.
He was slowed last year by a torn biceps that required surgery. That was the injury that prevented the Brazilian from clashing with Adesanya for the title at UFC 248.
The Romero Factor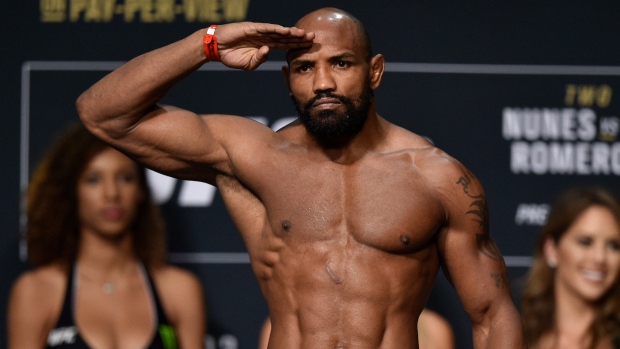 Both fighters come into this bout having tangled with Romero in their previous fights. And both came out of those tilts with outcomes that were stark in their similarities.
In a three-round fight at UFC 241, Costa scored a tight unanimous decision over Romero. Judges scored the bout 28-27, 28-27, 28-27 in favor of Costa.
Adesanya and Romero went five rounds, since their meeting was a title fight. Adesanya also scored a unanimous decision. Judges pegged it 48-47, 48-47 and 49-46 in his favor.
When the fight ended, Costa, who was seated at ringside, sought to get inside the octagon to go after Adesanya.
Them's Fighting Words
Appearing on ESPN's SportsCenter earlier this week, Costa and Adesanya traded verbal jabs, as opposed to the fistic ones they'll exchange in the octagon on Sept. 26th.
The two men have carried on a social media war of words for the past couple of years. Appearing via satellite on ESPN from their respective camps, the men took their Twitter war to the airwaves.
Costa began by chastising Adesanya for the lackluster performance he turned in during the Romero bout, a fight that was universally panned for its lack of sustained action. Adesanya countered by telling Costa his own inability to defend will make their fight much more active and exciting.
"He's dumb and he walks forward and he throws shots," Adesanya said. "That's what makes it really exciting and that's what I'm looking forward to. I'm looking forward to a big, inflated ignoramus running up on me, trying to throw shots as I keep moving and sticking him."
Costa blasted back, telling Adesanya to save the trash talking and do his talking with his abilities in the cage.
"This sport don't need this kind of attitude," Costa said. "You don't need this to sell a good fight. You just need to go and make a good fight."