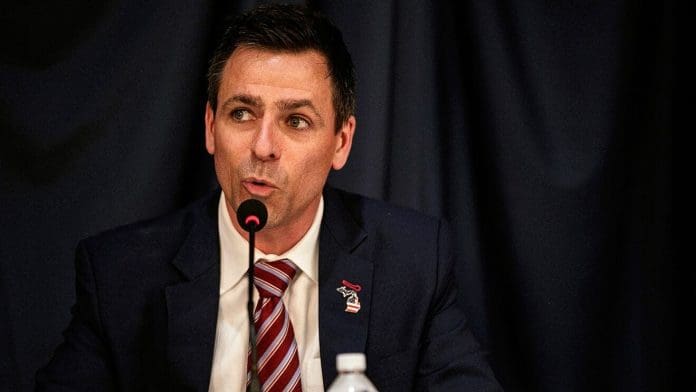 Ryan Kelley is charged with four misdemeanors in connection with the Capitol breach, including disorderly conduct and trespassing. A request for comment from his campaign was not immediately returned.
On January 6, Ryan Kelley, 40, admitted to being in Washington, DC, but denied any illegal activity. The real estate agent is one of five Republicans running in the August primary against Democratic Governor Gretchen Whitmer in the general election in November.
His arrest came only hours before the first of at least six public hearings by a congressional committee examining the Capitol rioting.
According to an affidavit filed in federal court, the FBI received at least four pieces of information from persons claiming Mr. Ryan Kelley was present at the Capitol attack between January and February 2021. All four tipsters offered images of a man who looked like Mr. Kelley at the Capitol on that particular day.
Ryan Kelley Turns Out To Be A Prime Suspect 
According to the affidavit, the FBI then used publicly accessible images and video from the event "to create a more complete record" of Mr. Kelley's conduct.
Mr. Ryan Kelley, as identified by the FBI, is seen throughout the day, according to the inquiry. He may be seen photographing a crowd of people attacking and pushing past police officers, climbing and standing on an "architectural element" of the Capitol building, and beckoning the crowd in front of him.
Mr. Kelley's attendance at a November "Stop the Steal" protest – a rallying cry for people who promote the bogus notion that former President Donald Trump, not Joe Biden, was the legitimate winner of the 2020 election – is also mentioned in court records.
Mr. Kelley addressed charges that he entered the Capitol complex on January 6 and engaged in wrongdoing last year, calling it a "completely untrue and malicious accusation leveled by Nazi Democrats."
"Kelley has officially verified his attendance in Washington, DC on January 6, and has made it clear that he did not engage in any criminal action or enter the Capitol building," according to the statement.
He is now charged with knowingly entering and remaining on the prohibited property, disorderly conduct on the restricted property, assault on the restricted property, and intentionally injuring US property.
Ryan Kelley is set to appear in court for the first time on Thursday afternoon. A chiropractor who works mere blocks from the Capitol was arrested on Wednesday for his alleged role in the riot.
The FBI apprehended David Walls-Kaufman, who has lived and worked in Washington, DC's Capitol Hill neighborhood for the past three decades. For allegedly accessing the compromised government building, he faces four misdemeanor charges.
Mr. Walls-Kaufman is already being sued in civil court by the wife of a Washington, DC police officer who committed suicide nine days after being hurt in the incident – allegedly because of Mr. Walls-Kaufman.