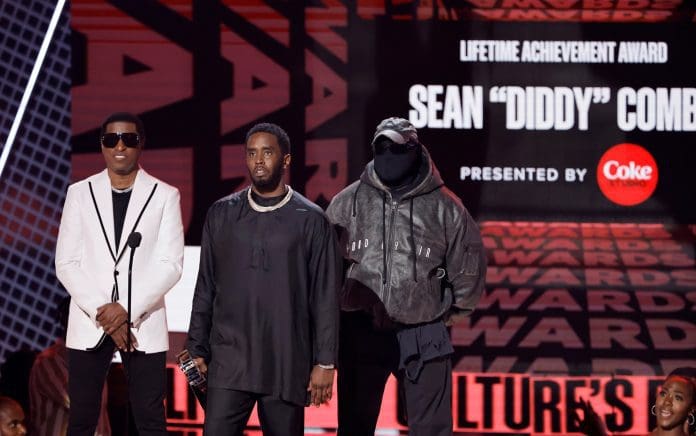 Kanye West appeared unannounced at the BET Awards night to pay a heartfelt tribute to Sean "Diddy" Combs, the Lifetime Achievement Award recipient at this year's show. The I Am A God singer suddenly showed up 3 hours into the show.
It was Kanye West's first major appearance on stage since earlier this year behind several concerts and huge listening sessions covering his Donda album released in 2021.
His heartfelt speech came after a tribute performance spanning the entire career of Combs starting from his beginning on Uptown Records right down to his latest Bad Boy label recently and featured cameos by a host of artists including Combs himself. It included Lil' Kim, Nas, Busta Rhymes, Faith Evans, Mary J. Blige, and the Maverick City Choir.
Diddy dedicated the I'll Be Missing You single to Kim Porter, his longtime companion who died in 2018. He also remembered Notorious B.I.G. Jay-Z also made a powerful and evocative video speech followed by a humorous one by Babyface, recalling Diddy's successful attempt to learn to ski.
Kanye West Took The Stage To Express His Long Admiration For Combs
West was on stage in a full black facial mask. He wore a leather hood, a baseball cap to match, and shades. The outfit he wore was similar in appearance to those he wore at performances in 2021.
Kanye West mentioned his admiration and respect for Combs in his elaborate speech and said he identified with a performer's desire to adopt a name. Combs has changed his name twice to Diddy and then recently to Love. West too changed to Ye last year.
Kanye West devoted his speech to Diddy, speaking of his long admiration for the legend. He said that he was signed to Combs without him knowing, and joked that it was not a legally binding statement. He touchingly referred to the influence Combs had on him. He stressed that he considered himself an artist. He said Combs viewed the whole business and creative process as a part of the whole.