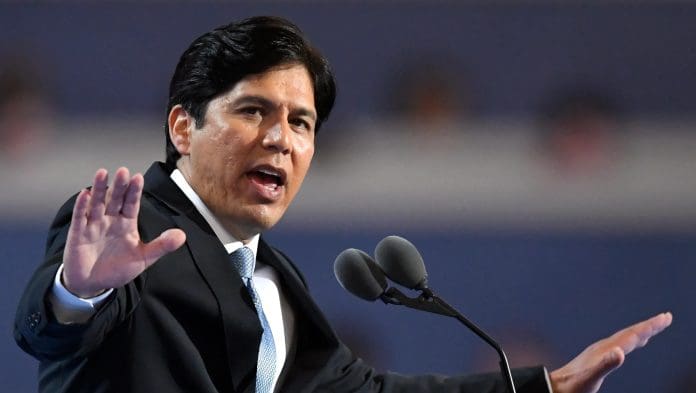 Footage has emerged of a brawl involving embattled LA City Council member Kevin de León and another person. Kevin was handing out toys to kids at a local community center tonight when a group of people confronted him. The video shows part of what happened and it is not clear what provoked that violent reaction from Kevin de Leon.
Police are using the footage as part of their investigation. They say that the person headbutted the council member right before the video was taken. Kevin de Leon said that what the video does not show was that the man thrust his pelvis into him and headbutted him.
Kevin de Leon said that he held him at the table for 5 to 10 seconds and then let him go. He said that another melee ensured and the man turned the corner and threw a punch at him.
The clip shows the altercation that was recorded on Friday at a toy giveaway and tree-lighting event. A full clip of the incident showed the person getting into an altercation and trying to physically block Kevin de Leon from moving ahead.
Kevin De Leon Was Called A Racist By The Protestor
He keeps calling Kevin a racist. 15-20 seconds into the altercation, Kevin de Leon suddenly grabs the man and throws him onto the table. After pinning him to the spot for around 10 seconds, he then drags him out of the venue, even as the person shouts at the LA council member not to touch him. 
There were hundreds of children present at the event, a tree lighting, and a toy giveaway event. Activists are seen pursuing Kevin de Leon through the event hall, calling for his resignation.                                            
Jason Reedy, the person involved in the altercation, is an organizer with the People's City Council. He kept repeatedly telling Kevin that he was anti-black and racist. The altercation happened when the council member tried to exit through a double door, followed by Reedy and other people. It is here that the shoving match ensued.