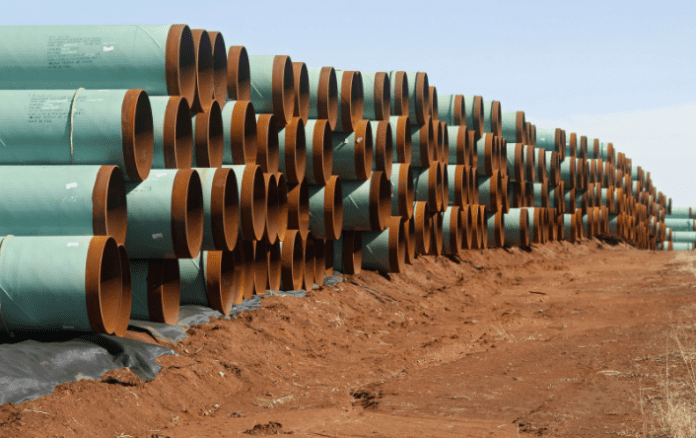 Democrat Senator Manchin (W.VA) called on the President to revive the Keystone pipeline as skyrocketing prices and gas shortages have left Americans in despair.
Manchin urged President Joe Biden to increase the production of energy responsibly at home. He said that reversing the decision to disallow the Keystone pipeline will bring in an additional 900,000 barrels a day from neighboring Canada, among America's closest partners.
The Senator, a moderate, said that it is about the independence of American energy. Manchin maintained that the US should not have to depend on offshore suppliers like OPEC+ to meet its energy security. America should instead concentrate on the genuine challenges that America is facing.
The major oil producers have formed a cartel that controls international oil prices. Manchin referred t the Keystone Pipeline after Biden announced the release of 50M barrels from the Strategic Petroleum Reserve to combat soaring oil and gas prices.  
Manchin serves as Energy and Natural Resources Committee Chairman. He had been previously against the decision by Biden to revoke the Keystone pipeline permit.
In February, Manchin said that the Keystone Pipeline would be one of the cheapest and safest methods to transport natural gas and oil resources. It would lead to thousands of jobs for Americans.
President Biden Is Firm That The Keystone Pipeline Will Not Be Revived To Achieve Pollution Targets
But President Biden believes that America has to end its dependency on one use of fossil fuel. The US committed to shaping a zero-carbon electric grid before 2035 and also net-zero emission 5 years before that.
President Biden stressed that this decade will be crucial and we have only a brief period to change to sustainable forms of fuel. 
Immediately after taking office in January, the President revoked permission for the Pipeline. It led to an immediate stop in construction on the project.
Senator Manchin has been a maverick politician with an unpredictable nature. He had initially supported a Republican amendment for the Keystone Pipeline as part of the American Rescue Plan. But he reversed his stance to back an amendment that removed the Keystone Pipeline provision from the bill.
The American President has maintained that halting operation on the Keystone pipeline had little influence on the rising cost of gas.