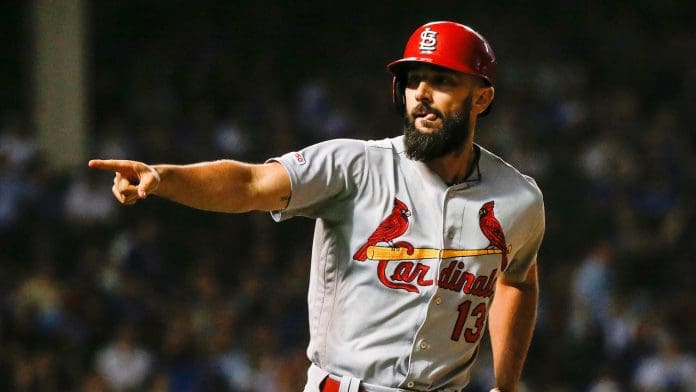 On Friday night, an emotional welcome back to Busch Stadium by a longtime Cardinals favorite, Matt Carpenter, was met with a prolonged standing ovation from the crowd.
But seven innings later, the biggest audience of the year was on its feet thanks to a present Cardinal who had been absent for some time. Paul DeJong, who was exiled to Memphis after struggling at the beginning of the season, made his first appearance this week since early May and experienced a moment he had been anticipating for a very long time.
Matt Carpenter Received A Standing Ovation
A 3-2 deficit was transformed into a 4-3 advantage over the Yankees in the eighth inning thanks to DeJong's two-out double into the right-field corner. The most anticipated series of the season's opening game was won by Ryan Helsley.
The Cardinals' longest winning run of the season, their fifth straight victory, allowing them to tie their season high of 10 games over average.
Matt Carpenter singled in each of his first two at-bats, flew out to the wall in right in the eighth, and then the game found him again in the ninth. Prior to the game, Carpenter had acknowledged that he did not anticipate he would be back at Busch after the previous season concluded.
Carpenter checked his swing and hit a slow roller when facing Helsley with two outs and the tying run on first. To narrowly beat Carpenter for the game-ending out, DeJong was able to field while cutting in front of Tommy Edman and flip with his glove to first.
The Yankees had initially planned for Matt Carpenter to bat sixth and play right field, but when Anthony Rizzo had to leave the game due to back spasms, Matt Carpenter was bumped up to third and given the DH position. Harrison Bader, a new Yankee, did not go with the club to this weekend's series since he is still recovering from plantar fasciitis. The Cardinals are hoping that Juan Yepez will be able to go on a minor-league rehab assignment next week after starting a throwing regimen on Friday.