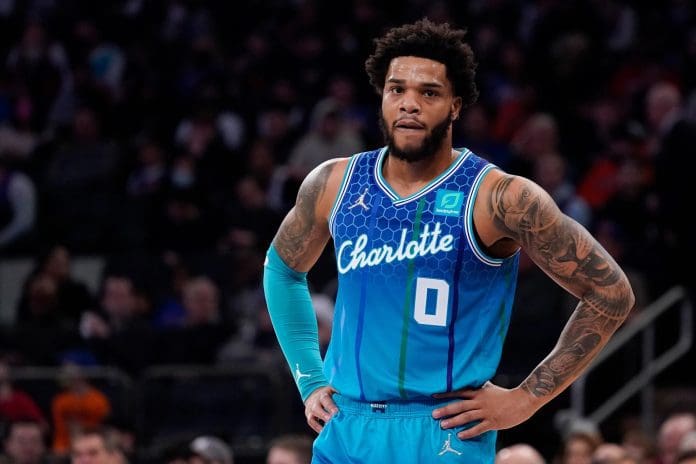 Miles Bridges, the restricted free agent for the Charlotte Hornets, is currently facing three charges of domestic abuse. These charges were laid against him after he was accused of assaulting his girlfriend before their children the previous month- as reported by the District Attorney of Los Angeles County on Tuesday.
George Gascon, the District Attorney stated that his office had filed a single felony count of injuring the parent of a child, and two separate felony counts of child abuse under severe conditions that could cause death or bodily injury. According to the press release from the DA, the case also included an allegation of causing great harm to the domestic violence victim. 
Miles Bridges Has Been Accused Of Domestic Violence
Miles Bridges has been scheduled to be arraigned at the Los Angeles County Superior Court on Wednesday. Gascon mentioned that domestic violence created mental, physical, and emotional trauma that had a severely lasting impact on survivors. Children who usually witness family violence are especially vulnerable with the impact on them being immeasurable.
Bridges was arrested on the 29th of June, by the police of Los Angeles, and was later released on a bond of $130,000. The Hornets and the NBA both stated that they were absolutely aware of the charges that were filed against Bridges, with the league also noting that it had been investigating all of the allegations. 
Rich Paul, the agent of Miles Bridges, could not immediately be reached by the Associated Press for comment on Tuesday night. The mother of the young children of Bridges, Mychelle Johnson, went on to post a few pictures on the 1st of July on Instagram with what appeared to be injuries and a medical report that had a list of all the injuries.