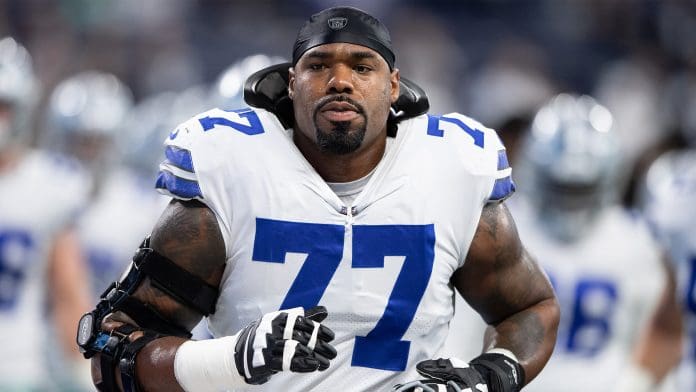 After tearing and coming off the bone in his left hamstring during practice on Wednesday, Dallas Cowboys left tackle Tyron Smith is unlikely to make a comeback until December, according to ESPN. A source told ESPN that Tyron Smith would have surgery on Friday.
Tyron Smith fell to the ground while attempting to make a block on linebacker Leighton Vander Esch after getting hurt on a running play. Initial testing revealed that his left knee's ACL was intact, and he could walk to the locker room without assistance. After practice, Smith was seen leaving the locker room and didn't have a limp.
The subject of Smith's injury predominated Thursday's Blue Carpet Season Kickoff ceremony at Ford Center. Because he believed Smith's injury to be a twisted knee on Wednesday night at practice, Dak Prescott expressed regret for not providing more consolation. He compared the beginning of his career, but he also acknowledged that the games would continue.
Tyron Smith Might be Comeback In December After His Surgery For The Torn Hamstring: 
An offensive line already having issues before the Sept. 11 opener against the Tampa Bay Buccaneers suffers greatly from the loss of Smith, an eight-time Pro Bowler and Prescott's blind side defender.
When Tyron Smith has taken breaks, the Cowboys have used Josh Ball, who was chosen in the fourth round of last year's draught but was unable to play as a rookie due to an ankle ailment, at left tackle with the first team. They also selected Matt Waletzko in the fifth round of this year's draught, but he didn't start practicing until this week because of a shoulder ailment that kept him out of most training camp.