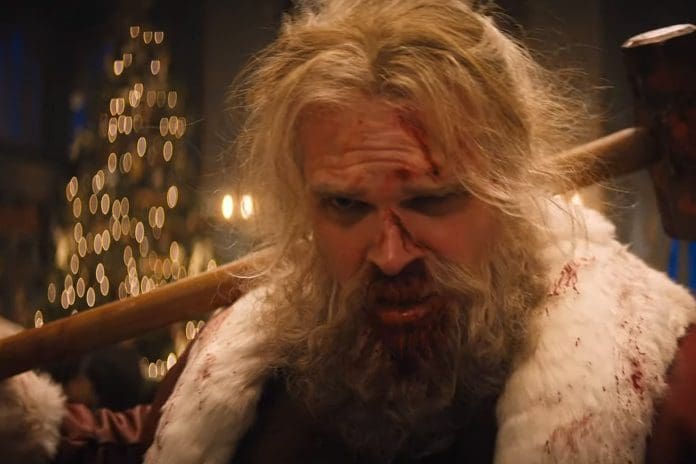 On 24th January fan-favorite holiday film 'Violent Night' made its way into Blu-ray and DVD. Way ahead of its comedy-horror genre the new film is expected to have an alternative ending to its original climax announced by Collider.
Violent Night Reaches Skyrocketing Views As Voted New Favorite Holiday Movie
The Violent Night movie struck the theaters on December 2nd and has since surpassed the charts, right before Christmas it had a surprise release over the internet skyrocketing its views to secure a place in new holiday classics.
Tommy Wirkola yet again worked his magic and this plot follows a rich well-off family which gets robbed by a superior batch of criminals right on the night of Christmas eve. Luckily by fate, Santa comes to rescue the Lightstone family when adorable Lil Trudy who is quite presumably on the good list calls for his help.
The upcoming alternate ending titled 'Family Reunion' will have an extra scene with the household members where Santa, played by David Harbour gets back with his precious hammer, Skullcrusher. The newly found footage discovers Violent Night Lightstone Matriarch Madam Gertrude who gets played by renowned actress Beverly D'Angelo and immediately falls deep into survival mode when met by the disaster of losing her wealth and power. Although in a plot twist her kin Jason played by Alex Hassell who is also the father of Trudys, finally takes a stand and puts an end to their family business forever. Instead of getting tempted by this very opportunity, she decides to let go of him, proving Christmas's kindred spirits right once again.
The casting of this movie has been phenomenal apart from actors Alex Hassell, Harbour, and D'Angelo, child actress Leah Brady playing Trudy Lighthouse did a marvelous job. Although an official date for the sequel 'Violent Night 2' is not announced yet, producer Kelly McCormick is rumored to have told director Collider that they are hoping to start shooting soon.