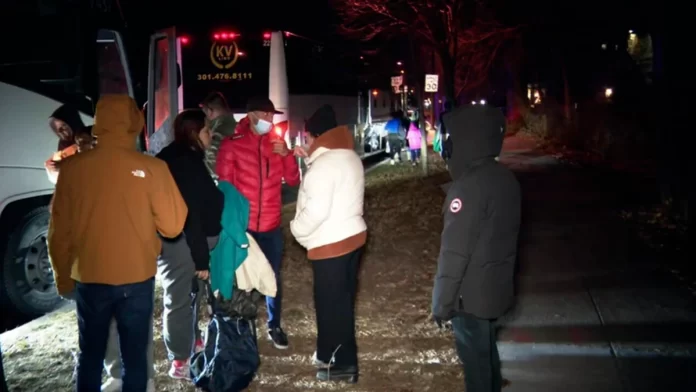 The White House has condemned far-right Republican Governor Greg Abbott for transporting busloads of migrants in sub-zero temperatures thousands of miles away to be dropped in New York City. The migrants included children, and many of them were in tees.
The migrants were abandoned on the side of the road near Vice President Kamala Harris' home. The migrants were from South and Central America and their arrival marks the latest episode of an intensifying clash between Republican governors of states bordering Mexico and the White House over the immigration policy of the Biden administration.
Busloads Of Freezing Migrants Reminiscent Of Holocaust Trains
The migrants were forced into buses and transported up north where a cold storm is raging, killing dozens across America. Abbott has previously sent busloads of migrants that are reminiscent of the horrors of the Holocaust trains.
The buses disgorged the people who were forced from the warm south to the sub-zero temperatures with only sweatshirts, tees, and shorts. It was a political stunt initiated by the Republican governor.
A migrant aid worker told newsmen that the busloads of migrants depicted the spitefulness behind governor Abbott's intentions as he continues to transport people and dump them in New York without considering that people arriving from the south might be killed in the freezing temperatures that prevail in this region in the last week of the year and well into February.
An aid network member took the freezing migrants to the safety of a nearby church where they were given warm clothes and food. Another first responder said that such drops were made earlier in April. She said that New Yorkers would welcome the migrants willingly.
Ron DeSantis, the governor of Florida, and Doug Ducey of Arizona have also been guilty of similar offenses of dumping immigrants to faraway states run by the ruling Democrats without considering their safety.