When Kem Senou Pavel Daryl, a 21-year-old Cameroonian student living in the Chinese city of Jingzhou, contracted the coronavirus he had no intention of leaving China, regardless of whether that was conceivable.
"Regardless of what happens I don't want to take the disorder back to Africa," he said from his college residence, where he is currently under a 14-day quarantine.
He was experiencing a fever, a dry hack, and influenza-like side effects.
When he became sick he thought of his time as a kid in Cameroon when he contracted malaria. He feared the more terrible.
"When I was setting off to the hospital just because I was considering my death and how I thought it would happen," he said.
Read More: Do surgical masks protect against coronavirus?
For 13 days he remained in isolation in a local Chinese hospital. He was treated with antibiotics and medications typically used to treat HIV patients. After about fourteen days of care, he began to show indications of recuperation.
The CT scan showed no trace of the ailment. He became the principal African person known to be contaminated with the deadly coronavirus and the first to recoup. His medical care was secured by the Chinese state.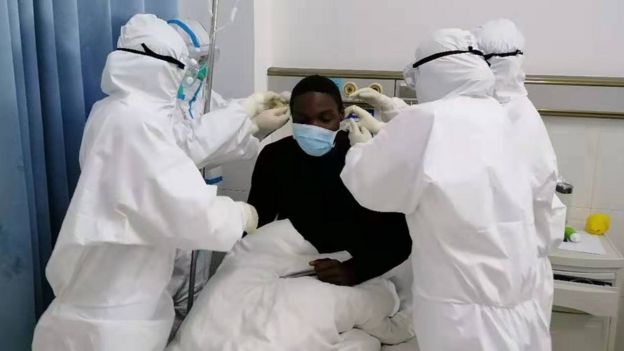 "I don't want to return home before completing the process of examining. I think there is no compelling reason to get back because all hospital charges were taken care of by the Chinese government," says Mr Senou.
To evacuate or not?
Since late January governments around the world, driven by the US, began evacuating their residents out of Wuhan and neighboring urban communities.
Yet, thousands of African students, laborers and families, remain in lockdown across the central Hubei region – the outbreak began in the provincial capital Wuhan – and some figure their administrations ought to accomplish more to help them.
"We are sons and daughters of Africa yet Africa isn't happy to act the hero when we need it the most," says Tisiliyani Salima, a medical student at Tongji Medical University and leader of the Zambian Wuhan student association.