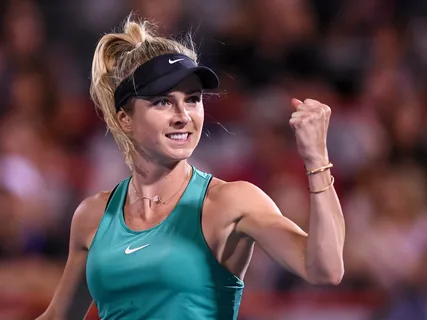 Ukrainian professional tennis player Elina Svitolina secures her position in the semi-final at the All England Club. On July 11, Elina Svitolina defeated Iga Swiatek in the quarter-final. With both Swiatek who was top-seeded and Jessica Pegula out of Wimbledon, Elina Svitolina is all set to play against Czech tennis player Markéta Vondrousová in the upcoming semi-final. 28-year-old Elina's semi-final lead is her second time in the last four years. The phenomenal sportswoman is back on the tour after giving birth to her daughter in April.
It was Iga Swiatek, who was leading Tuesday's tournament with 5-3 points while Elina was 4-2. However, in the course of the game, Swiatek lost the next two points, while Elina took over and dominated. In the later half of the tournament, Elina had scored 16 points winning the match, leaving Swiatek amused. Swiatek in a post-game statement said that it is difficult for her to assess what went wrong, while praising Elina said that she played aggressively giving her best.
Elina Svitolina Comments On Her Quarter-Final Win & Her Reason To Play
After the July 11 quarter-final, Elina Svitolina jokingly stated that first she is going to have a beer, she further stated that had anybody told her that she would win this tournament, beat Swiatek and qualify for the semi-final, she would have said that the person is mad. Elina Svitolina has also talked about what drives her to play and the important reasons such as her newborn daughter Skai and the raging war in her home country Ukraine. Svitolina has stated that the Ukraine war has made her mentally stronger as well as a person. Now she remains calm in the most difficult situations and looks forward to winning the upcoming tournament.