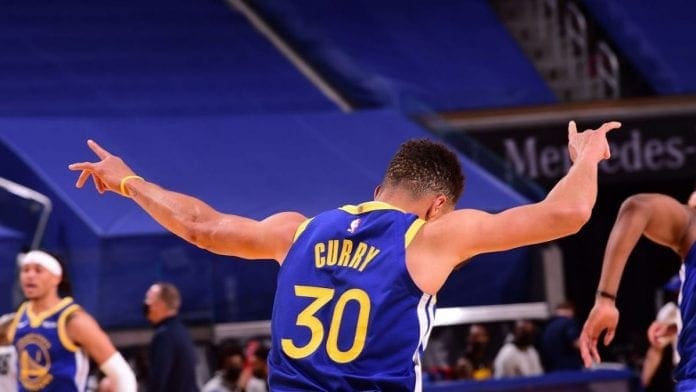 As the final seconds wound down in Game 6 of the NBA Finals between the Golden State Warriors and Celtics, Stephen Curry crouched down on the baseline and placed his head in his hands.
At center court, Klay Thompson and Jordan Poole shared a long embrace. On the left side of the court, Draymond Green and Andre Iguodala exchanged several high-fives before going in for a hug.
Golden State Warriors were just two seconds away from clinching its fourth NBA title in the past eight years with Thursday's 103-90 victory.
The moment the emotions sink in after a championship win isn't new for Curry, Green, and Thompson. But this title, this moment, felt different.
This Win Feels Different For Golden State Warriors
"This one is definitely different because of the three years of baggage we carried coming out of that Game 6 in 2019," Curry said. "I can say it now, I don't know how many teams could carry that as long as we have with the expectations of comparing us now to teams of past and make it to the mountaintop again."
The Golden State Warriors won their first title since 2018 and became the first team to go from the NBA's worst record to a championship in a three-season span. They were a league-worst 15-50 in 2019-20.
The previous Game 6 of the Finals the Warriors played is considered one of the most difficult and crushing nights in Golden State history. It was the night they lost the championship. It was the final night of their superteam roster. And most importantly, it was the night Thompson tore his left ACL.
This time last year, Thompson was just starting to run again, after he also tore his right Achilles in the fall of 2020. But after Game 6 of this year's Finals, Thompson wouldn't leave the trophy presentation stage.
"I was feeling absolutely incredible," Thompson said.
At the start of the season, any discussion of the Warriors' title aspirations would have to be prefaced with "once Klay returns." But even before Thompson's return, he saw something in his team.
"People called me crazy. I said championship or bust because I saw how we came out of the gates," Thompson said. "I knew we had a chance to do something special, and here we are. It's so incredible. Wow."
But Thompson and Curry haven't forgotten those who said they couldn't do it.