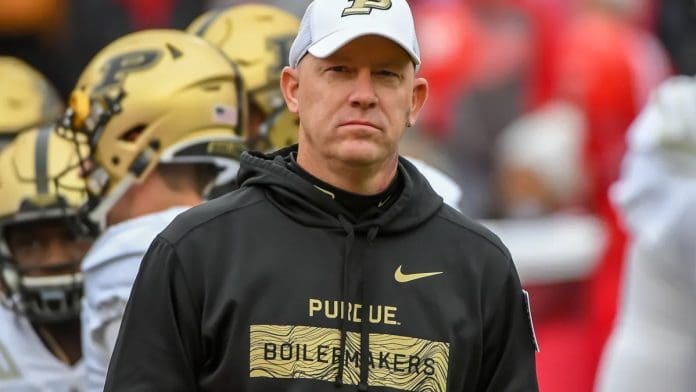 Jeff Brohm is going to be the new football coach at Louisville. The person spoke on condition of anonymity because the Cardinals have not yet announced the hiring.
Quote from source: "The Jeff Brohm era is about to begin," Tyra said Tuesday morning, hours before a press conference was planned for later in the day at Louisville's stadium where athletic director Vince Tyra would introduce him as a coach.
Jeff Brohm, who built Purdue into a contender in the rugged Big Ten West division, has been named as the new head coach at Louisville.
Jeff Brohm Wants To Make Positive Changes
Louisville athletic director Vince Tyra made the announcement Saturday night, saying Brohm will lead the Cardinals into their first season in Atlantic Coast Conference play.
Brohm's hiring comes two weeks after Bobby Petrino left to become the coach of Western Kentucky's football program. It is Louisville's second coaching search since last year's firing of Charlie Strong, who went 14-24 with four straight losses to end his third season with the Cardinals. Jeff Brohm is a proven winner at Purdue and the Cardinals can only hope he can do the same with them.
Louisville has been a mess since Bobby Petrino was fired in 2012 after being caught having an affair with his assistant and violating school policy. The Cardinals are 10-27 over the past three seasons, including 1-11 this year. They've also lost 18 of their last 23 games against Power 5 opponents, including an average margin of defeat of 4.8 points in those games over that span (the other five were decided by two points or less).
In contrast, Brohm took over Purdue's program in 2016 after Darrell Hazell was fired following three straight losing seasons (7-17). He went 6-6 during his first year in West Lafayette before going 9-4 this season — which included a win at No. 13 Iowa — making him one of four new coaches who led their teams to bowl berths on Sunday night (alongside David Cutcliffe at Duke; Mike Norvell at Memphis; Josh Heupel at Central Florida).