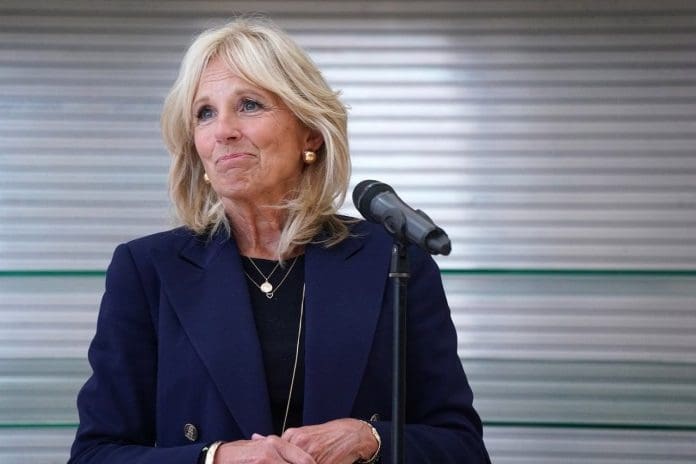 Jill Biden had surgery to eliminate cancerous lesions and was expected back at the White House following the surgery. Doctors removed three lesions after outpatient surgery. Two of the lesions were determined as cancerous, but a relatively non-malignant form of cancer.
A White House release said that the first lady would not need any further procedures at the moment. The tissues above Jill Biden's chest and above the right eye were tested for malignancy. This type of cancer is called basal cell carcinoma. All the malignant tissues were removed and doctors said no further procedures were necessary.
Another lesion was removed from her left eyelid and tests were ongoing to determine if it is cancerous.
Jill was reportedly feeling well and was in fine spirits. She had some minor bruising and facial swelling though that was expected.
Jill Biden Accompanied By President Biden To The Hospital For The Operation
Jill underwent the procedure at the Walter Reed National Military Medical Center where Joe Biden accompanied her. Mohs surgery, as the process is called, involves the repetitive removal of multiple skin layers and then checking them for cancerous cells.
The procedure is effective, routine, and safe. It is usually an outpatient procedure. The White House said that the president was giving priority to Jill Biden's statement and was focused on the developments.
A normal skin examination threw up the likelihood of cancer when doctors detected the lesions above Jill Biden's eye and chest. Doctors recommended that she undertake surgery as a precautionary measure.
Around 2 million Americans are diagnosed with this form of cancer. It is considered treatable as such lesions do not metastasize, or spread to other sides. Doctors remove them usually with narrow incisions.
Jill Biden had earlier undergone surgery after developing complications on her left foot after stepping on a sharp object while on a trip to Hawaii.