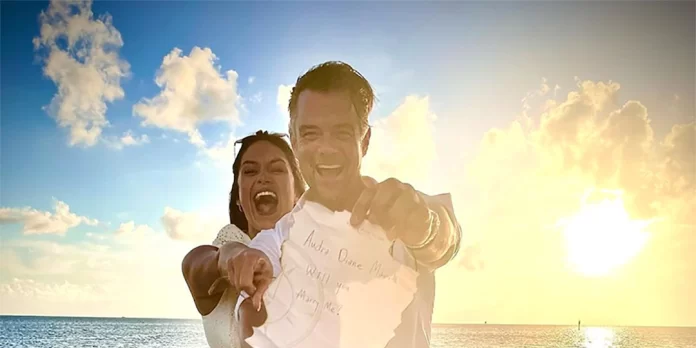 Josh Duhamel is engaged to Audra Mari following two years of dating. Josh Duhamel, 49, popped the question on his girlfriend's 28th birthday in a romantic beachside proposal.
As the pair were inundated with good wishes, Josh's ex Fergie – who he was married to for almost 10 years – also showed her support.
Josh Duhamel Popped The Question While On Vacation
The Las Vegas star shared a joyous snap on Instagram to announce the big news, showing the couple holding up a piece of paper that Josh left as a message in a bottle asking if Audra Mari would marry him.
Captioning the sweet snap from their tropical getaway, Josh wrote that she found the message in the bottle and she said yes.
Fergie – who Josh separated from in 2017 – soon liked and commented on the post, congratulating the newly engaged couple and adding a string of green heart emojis.
Josh Duhamel and Black Eyed Peas star Fergie share eight-year-old son Axl and were married for almost a decade.
When announcing their split in 2017, the couple's joint statement read that they decided to live separately as a couple, with respect and love. Josh and Fergie then filed for divorce in May 2019, which was the same month he was first spotted publicly with Audra.
A source revealed that Josh Duhamel and wife-to-be met through mutual friends and that the pair have a great time together and are on the same page about what they want their future to be.
While not an actor, Audra is a former beauty queen who previously dated Property Brothers star, Jonathan Scott, from 2013-2015.
As the two get to planning their nuptials, perhaps more children could be on the cards further down the line, as the actor has previously spoken about his desire to have more kids following his divorce from the Glamorous songstress.