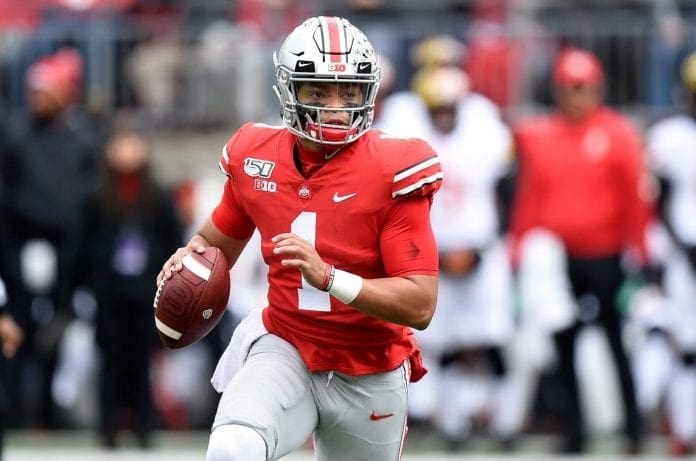 On Tuesday, at the pro day of Ohio State Buckeyes, NFL QB Justin Fields completed his dash across 40 yards in just 4.4 seconds. The recorded time is unofficial.
The player carries the expectations of being one of the first-picks in the NFL draft that will take place next month. He weighs in at 3228 pounds and stands 6 feet tall. At the pro day, Justin Fields reportedly threw and exercised for the NFL teams present at the event. All 31 teams of the league, apart from the Los Angeles Rams were reportedly attending.
Justin Fields Words On The Performance
The player expressed his satisfaction with the results of the day in a later interview. He also stated his disappointment at not being able to clock below 4.3 which was the general expectation. He was not held up over not being absolutely perfect at everything he attempted.
Potential draft picks are exercising at their potential teams' pro days in place of the usual NFL scouting grounds at Indianapolis. It is canceled for the current year due to the pandemic situation.
According to records, Justin Fields' time is slower than only one QB at a scouting combine. It is Robert Griffin III who had clocked a time of 4.41 seconds back in 2012. Fields had also shown off his throwing skills on the second day of Alabama's pro.
Along with Fields, there are four other quarterbacks that are potential picks for the first-rounds. They are Trey Lance of North Dakota, Mac Jones of Alabama, Zach Wilson of BYU, and the top pick, Trevor Lawrence of Clemson.
Fields recorded 5373 yards in passing, nine interceptions, and a total of 63 touchdowns in his two seasons with Ohio State. His career had started with Georgia. He will become only the second QB from Ohio State to be drafted first-pick in a span of three seasons following Dwayne Haskins of 2019.