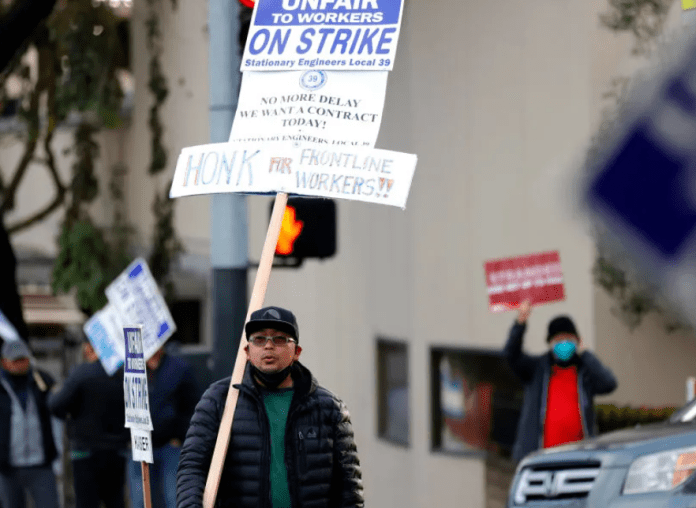 A group of worker unions representing over 50,000 employees of Kaiser Permanente in 6 states, including California and Oregon withdrew their strike notice following a cautious labor agreement was reached with the healthcare provider and chain of hospitals.
Kaiser Permanente and the health care union alliance, AHCU, declared the agreement that has for now staved off a strike that could have crippled large sections of the healthcare industry. 32,000 workers, a majority of them stationed in California, had threatened to halt work in protest against understaffing, long hours, and wage reductions for new entrants.
Additional alliance members comprising 21 unions have also decided on a token strike for a day in sympathy with their demands on November 18.
Fresh Agreement Drawn Up Between Striking Employees And Kaiser Permanente
The agreement reached between Kaiser Permanente includes an increase in annual wages, retention of employee health benefits, and a new language for staff to protect patients and employees.
The agreement ensures that patients continue to get the best possible care while the alliance supporters will get the best of jobs. The agreement between Kaiser Permanente and the unions will protect patients, ensure safe staffing while guaranteeing benefits and fair wages for every member of the alliance.
Human Resource Head of Kaiser Permanente, Christian Meisner said that the agreement reached between the parties highlights the strong commitment of the company towards its employees. He said that the company has ensured benefits and wages that are among the best in the industry.
Further, bargaining continues as local units of the union representing pharmacists of Kaiser Permanente and engineers in the Pacific Northwest and Northern California negotiate with Kaiser Permanente. Steve Shivinsky, Director, National Media Relations, said that an agreement was expected soon.
The alliance of unions has over 35,000 members in California, another 6,300 in Washington and Oregon, 2,300 in Washington D.C., Northern Virginia, and Maryland, over 2,000 in Colorado, 8,000 and 1,900 in Georgia and Hawaii respectively.