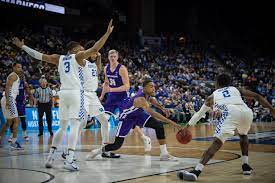 Lance Ware and Oscar Tshiebwe were facing their lockers, and CJ was literally crying. The Kentucky Basketball team's locker room was more or less silent after the game today. Kentucky Basketball team is ending their run in the NCAA tournament this year after a defeat against Kansas State, and the players were disheartened after the match.
The Kansas State, a third-seeded team this year defeated the Wildcats to end their campaign as well. This put an end to the underachieving season of the team. The Wildcats will be returning their player of the year who has experienced some complementary pieces around himself. However, it wasn't quite the season for the Kentucky Basketball team.
Kentucky Basketball's Exit From The NCAA Tournament:
However, this season the pieces never fell under the right place for the players in this season. They had fought tirelessly against injuries. The team has also suffered some unexpected defeats in the tournament as well. They lost a home game against the South Carolina and also against Georgia in this edition of the tournament.
In the last season, Kentucky Basketball lost to the Saint Peter's in the final round of the match. They were also failed to qualify in the 20-21 season as well.
Since their last final in 2015, the Kentucky basketball team has been qualified for the top eight places only a couple of times. These were their 2017 and 2019 season. Calipari said that he understands the meaning and the aim of the club after ending his fourteenth season in this job. He said that this is why he always tells his players that the expectations in this club are huge and it is not for everyone.
Kentucky Basketball lost to Kansas who were picked to stand in the last position in the ten teams list this season under a new coach.