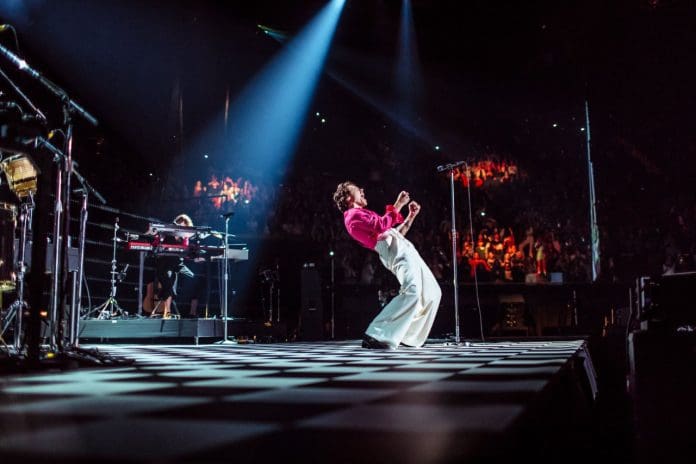 He is not emotionally hurt but has been hit in the face. It's not uncommon for artists when it comes to getting hit by unwanted objects while they are performing. It's been going on for ages, and they have all been respectful towards their fans.
Nevertheless, things have gotten rough lately. A few months ago, Bebe Rexha was hit in the face by a fan's phone. Thean was immediately arrested, and as per the source, she pressed charges against him. A similar accident took place in Vienna when Harry Styles was performing. However, he didn't react immediately, but this incident exceedingly raged other fans for hurting their Guy.
Rainbow Didn't Taste Delicious At All, Harry Styles Must Speak Up
The accident happened recently in Vienna, Austria. Someone threw a heavy metal object which hit Harry Styles in the eye. The video went viral on Twitter. A few months ago, he performed in Los Angeles, and some threw a bunch of Skittles. Again, he just smiled and moved on. Others were furious by this. However, Harry Styles has never been rude to his fans. Yet, some think this must stop. While he was on One Direction, all the lads used to get all kinds of things thrown at them, from lingerie to heavy things that would hurt.
While performing in Wales, he was hit by a bouquet, which startled him, and he paused for a minute before gaining his senses of what had happened. Not only Harry Styles but also Country singer Kelsea Ballerini. Again Ava Max was slapped for no reason by a fan who was present at the concert. The worst happened to Pink, someone threw their mother's ashes on her. The act pretty much took her aback. And did mention she didn't know how to respond to that.