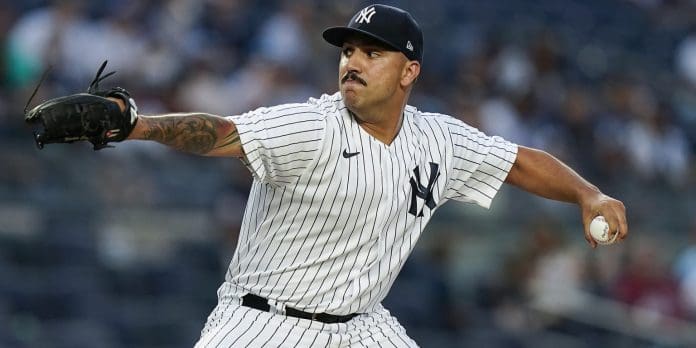 For his bizarre throwing at this year's MLB All-Star Game, New York Yankees pitcher Nestor Cortes made headlines.
He has developed a reputation for his deceptive motion since joining the Yankees. On one of the biggest stages in the game, he raised the bar significantly.
For New York, Cortes has become one of the league's fan favorites. He is one of the select few athletes that have acclaim across Major League Baseball. He even goes by the moniker "Nasty Nestor." It makes sense that many people were delighted to see him get engaged earlier today given how well-liked he is in the league.
Fans responded to Nestor Cortes' proposal as soon as it was announced on Twitter. This was also done at the ideal time because Cortes had recently made his first MLB All-Star appearance. The top pitcher for the New York Yankees, Nestor Cortes, experienced a range of feelings during the All-Star break. In addition to playing in his first MLB All-Star Game, he proposed to his girlfriend.
Nestor Cortes Proposed After His MLB Game
Cortes posted many images on Instagram to reveal his engagement. He posted several photos, some of which include his fiance Alondra G. Esteras Russy, and others from the All-Star Game. On one knee, Cortes is seen asking Alondra to marry him. In another image, Alondra is seen flashing her engagement ring while the duo is seen kissing. The MLB player said in his post that his parents went to the All-Star game with them. Alondra G. Esteras Russy also shared a number of images, announcing her acceptance and showcasing the dazzling new ring.