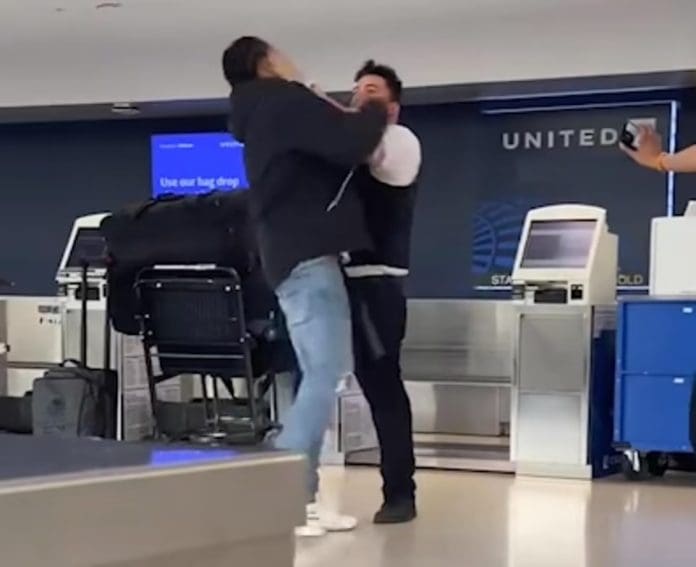 Former NFL Star Brendan Langley got into a full-blown brawl with a UA employee at an airport in New Jersey. Brendan Langley, 27, was arrested at Newark Liberty International Airport while the employee involved in the fight lost his job.
Langley faces charges of a count of simple assault while the unnamed worker was taken for treatment after the violent fight that left him bleeding from the face.
A video of the scene does not reveal the reason for the brawl or who threw a punch first. It shows the two squaring up to fight before the employee gets in the first shot after evading a few punches from Brendan Langley. He responds with some heavy blows that leave the employee sprawled on the ground and bleeding from the face.
He picks himself up to continue the brawl before security personnel and other employees arrive at the scene and intervene.
The Brawl Started When Brendan Langley Used A Wheelchair To Ferry His Luggage
The confrontation started when Brendan Langley used an airport wheelchair to carry his baggage instead of paying $5 for a luggage cart. The NFL player was arrested, though the worker has not yet been charged.
A spokesperson for United Airlines stated that UA does not put up with any kind of violence at their airports or onboard and said that they were cooperating with authorities to probe into the matter.
Brendan Langley could not be contacted despite multiple efforts. In a tweet, he pained the worker as the aggressor, saying that he walked away from the man, but he aggressively kept following him and even landed the first punch.
The man is an employee of United Ground Express, a subsidiary of United Airlines that handles ground operations at the airport. It informed that the services of the employee had been terminated. Brendan Langley is a former NFL player and a member of the Denver Broncos.