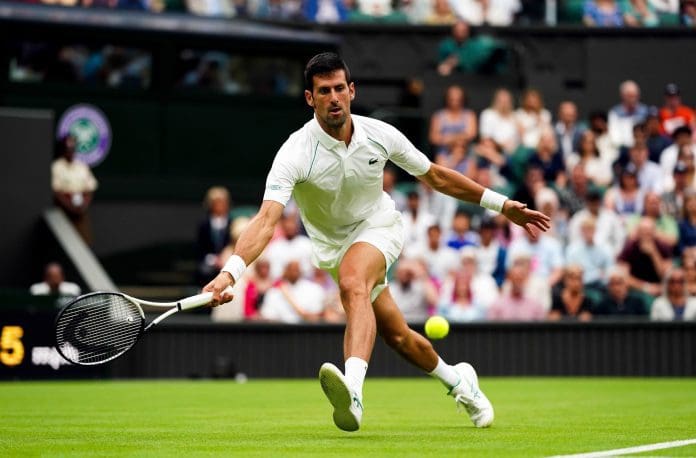 Novak Djokovic stumbled through to the second round of Wimbledon but still managed to set another record for the opener. He was broken early and trailed 3-1 as he bid for a 4th consecutive Grand Slam tournament and 7th overall on grass. Despite more unforced errors than his opponents, he shook off the fact that he did not play for a month to win 6-3, 3-6. 6-3, 6-4 against South Korean Kwon Soon-woo.
With this win, Novak Djokovic extends his winning streak at the All England Club to 22 and a record-breaking career total of 80 victories. This makes him the only player in tennis open-era history with at least that many victories in every major.
Novak Djokovic's win came in 2 hours, 27 minutes. In the post-match interview, Djoker said that this court had always been special for him, a court where he had always dreamed of playing and winning. He said this was the place where his childhood dreams finally came true. He said he considers it a pleasure and honor to return to the Centre Court.
Novak Djokovic Seemed Rusty After A Month-Long Layoff
Novak Djokovic last played a tournament on May 31 when he went down to Rafael Nadal in the French Open quarterfinals. The long layoff was visible in his rusty game in the first two sets.
Kwon did not break Djokovic's serve after the first set as the latter saved 4 of 6 break chances. He also fired in 15 aces and won on 86% of his 1st serve (54 out of 63).
Two other Grand Slam winners were back after long layoffs due to injuries. While Swiss Stan Wawrinka went down 5-7, 6-4, 3-6, 2-6 to Jannik Sinner, the 10th seeded Italian, twice champion Andy Murray rebounded after a first set loss to defeat Australian James Duckworth 4-6, 6-3, 6-2, 6-4.
The only other top seed to bow out was Hubert Hurkacz, the 7th seed Spaniard.