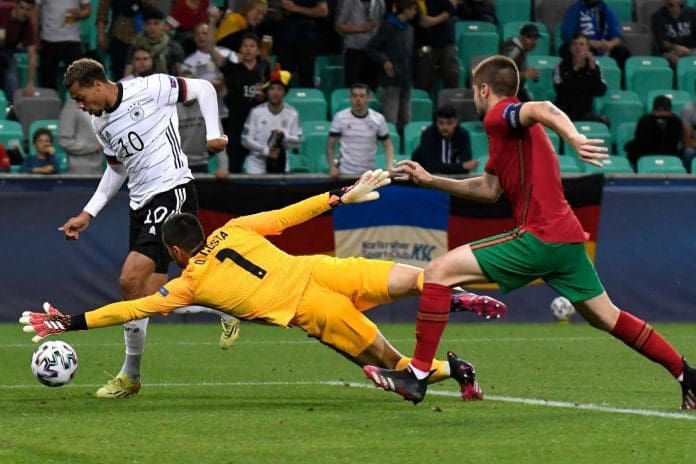 Germany made a statement of return in Portugal vs Germany match-up in Euro 2020. They did so by scoring 4 goals as they defeated the reigning champions 4-2. They blew away their recent insecurities and misfits to recover from another special from Cristiano Ronaldo.
The Proceedings Of Portugal vs Germany
Joachin Low, the recently aligned coach of Germany, finally reaped the fruits of insisting on the combination of Robin Gosens and Joshua Kimmich as the wing-backs. Portugal obviously lacked a reply to the tactic. However, the defeat of Portugal in Portugal vs Germany match is not a clear indicator at all as to the team's weakness. In the last tournament, this side had struggled through the groups as well. Moreover, France was held to a draw by Hungary thus Group F is far from being decided.
Nevertheless, Low had been under immense fire recently. His socially awkward personality in front of the cameras coupled with his stubbornness to fit Gosens in the 3-4-2-1 formation had driven German fans mad. However, given the relative lack of outstanding performances that make a superstar, very few people understood the coach's favorite. Moreover, he actually managed to become popular after he led Atlanta to the Champions League where he even had 10 goals.
However, the threat was apparent in Portugal vs Germany match after only five minutes. Gosens slotted in a goal but was disallowed because Serge Gnabry was offside. And then Cristiano Ronaldo, redefining age limits, cleared the ball, ran all the way to the other end, and finished for the first goal.
Then Portugal's Raphael Guerreiro and Ruben Dias turned in the ball into their own net twice within 3 minutes, a record in its own right. Even with a halftime substitution by Portugal, Gosens and Kimmich continued to pile on the pressure who made it 4-1. Ronaldo then assisted Diogo Jota to pull one back.