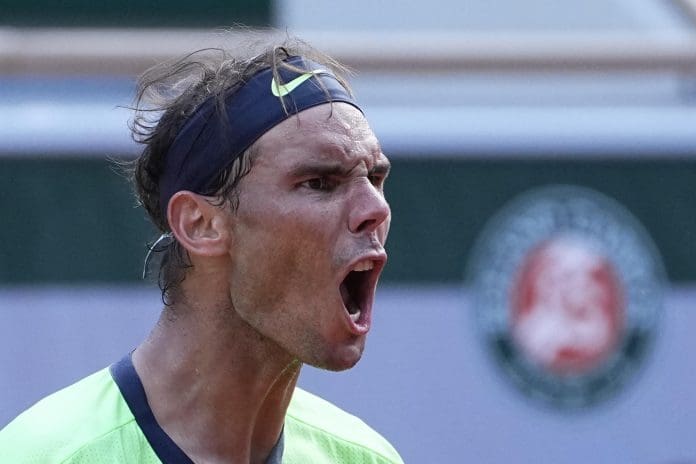 In their first semi final meeting since Wimbledon in 2018, Novak Djokovic and Rafael Nadal face one another in the semis of the French Open.
It was a tough match for the Serbian in the quarterfinals of the French Open as it took 3 hours 28 minutes to defeat Italian Matteo Berrettini in four sets.
Djokovic defeated the ninth-seeded Italian 6-3, 6-2, 6-7(5), 7-5. The 25-year-old Berrettini had 55 winners against the 44 by Djokovic. But the 51 unforced errors made the difference as Djokovic committed just 19.
There was a disruption as fans refused to leave the stadium when a curfew was imposed at Court Philippe Chatrier. Both Djokovic and Berrettini left the court as the fans were requested to clear the court. Djokovic had a minor injury just after play resumed.
Berrettini was happy at his achievement and said he had more to offer. It was his second Grand Slam quarterfinals.
Nadal Recovers From A Dropped Set
In the first quarterfinal, the third-seeded Rafael prevailed over the 10th seeded Argentine, Diego Schwartzman. Sergio Nadal dropped the second set, the first in a couple of years, and came back strongly to take the next two.
He finally prevailed 6-3, 4-6, 6-4, 6-0. He won a total of 108 points to Schwartzman's 77. Rafael converted 7 of the 14 breakpoints. The 39 unforced errors by Schwartzman proved to be his undoing.
Nadal is behind Djokovic 29-28 in their total face-offs. But Nadal leads Djokovic 10-6 in Grand Slam events. And it is 7-1 at Roland Garros. They will meet at Roland Garros 58 times, the highest meeting in the pro era of the men's events.
Djokovic said that there is an extra bit of expectation and tension when he goes out against Nadal. He said their rivalries had been historic. He picked Nadal as the biggest rival in his career.