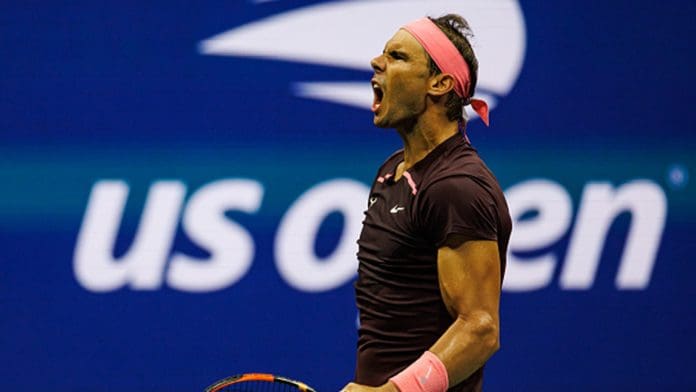 When his racket ricocheted off the court during the follow-through after a shot, Rafael Nadal cut wounded on the bridge of his nose with it, leaving him wounded and faint following his second-round victory at the US Open.
In the fourth set of what would end up being a 2-6, 6-4, 6-2, 6-1 victory over Fabio Fognini at Arthur Ashe Stadium in a match that started Thursday night and ended after midnight on Friday, the play was suspended for nearly five minutes during a medical stoppage.
It created a strange scene that was briefly frightful. Nadal frowned, put his racket down, put his hand to his face, and then put both hands on his head. In his postgame news conference, he initially believed his swollen nose might have been fractured.
Nadal was able to laugh despite everything, though. He laughed when asked if he'd ever experienced that during his on-court interview and responded, "With a golf club but not with a tennis racket."
Rafael Nadal's Triumph Over Fabio Fognini:
When asked about his feelings, Rafael Nadal replied that it was a little bit dizzy at the start and was a little bit painful too. Nadal is a 22times Grand Slam Champion and has owned the Hard Court of US open recently in 2019.
The episode began with Nadal ahead 3-0 in the fourth set and comfortably in control after giving up the opening set for the second straight match this week.
The 36-year-old Nadal struck a backhand while shifting to his right. When his racket made contact with the ball, it deflected off the floor and hit him in the nose.