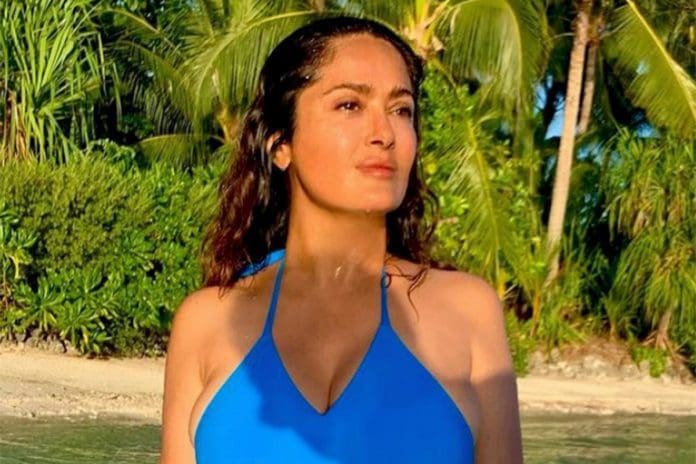 Salma Hayek is celebrating her day in exquisite style. She turned 55 on the 2nd of September and marked the day by putting on a blue bathing suit. She posed for pictures while standing in the ocean in front of a tropical beach.
Salma Hayek Celebrates Her 55th Birthday
She captioned the picture by writing "happy birthday" to herself and said that she was looking forward to more adventures.
The fans rushed to the profile to wish Salma Hayek a very happy birthday. Some mentioned her as a "Virgo Queen" while others said that she deserved the best in her life.
Salma Hayek will be appearing next in House Of Gucci alongside Lady Gaga as well as star in the movie "Marvel's Eternals". She uploaded a picture of herself and celebrated getting old. The picture made her wisps of white hair visible and she called them the "white hair of wisdom".
Salma spoke about her healthy aging by practicing meditation. She started this practice in her 30s and believes that she is doing pretty well compared to her age and attributes everything to meditation.
Salma Hayek believes that meditation will help people feel light and feel satisfied with their own lifestyles. You can explore your body in a different way when you breathe and reflect on yourself.
Salma Hayek, who was also famous for her part in "Grown-ups" posed in a bright blue one-piece. Her hair was pulled half up and the other half was down. She had to lose a lot of weight to get into her bikini, which she explained in an interview.
Salma Hayek is glad that she took a lot of pictures. She does not feel any kind of a shame, with how her body looks as it was the first week of her vacation.