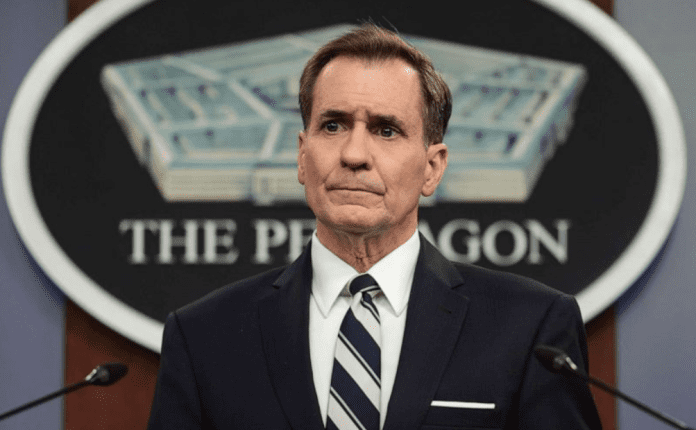 John Kirby, the Pentagon Press Secretary, has warned that Russian troops could be 'broadening' the 'target sets' following attacks on a military complex where Ukrainian soldiers are trained by the US. THE Yavoriv International Center is just 15 miles (24 kilometers) from the international border.
The facility houses Ukrainian troops trained by NATO forces. But John Kirby said that the attack would not at this stage prompt NATO to impose no-fly zones as concerns increased over the escalation of tension between the two superpowers.
The Yavoriv Center was hit in an overnight airstrike by the Russian airforce. According to Maksym Kozytskyy, the regional governor, the Russian fired 30 rockets blowing up the facility killing 35 and wounding 34 people.
This marks the third time that the Russian has targeted an airport or military facility in western Ukraine within the last two days, said John Kirby.
John Kirby Confirmed No American Troops Killed In The Airstrike
John Kirby confirmed that no Americans or NATO personnel were killed or injured in the airstrike. But it clearly indicated that the Russians were broadening the target sets. American troops stationed there to impart training to the Ukrainians were withdrawn weeks back.
A day earlier, the Russian deputy foreign minister had warned that Western arms shipments and convoys to Ukraine would be marked as legitimate targets.
The Ukraine defense minister has called the strikes a blatant terror attack close to the international border and reiterated appeals to enforce no-fly zones over Ukraine. But the West has refused so far saying it could quickly escalate into a larger confrontation and trigger a world war.
The US President has categorically stated that no American troops would be involved in the Ukrainian-Russian war, and for good reasons, as it could soon escalate into an all-out war. John Kirby added that it made little sense for nuclear powers to go into war at this stage.