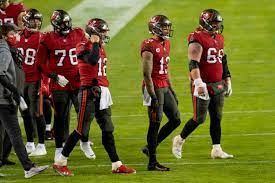 Tampa Bay Buccaneers secured their spot in the playoffs after they demolished the Carolina Panthers in their game yesterday.
In a very closely knitted tie between the Tampa Bay Buccaneers and the Carolina Panthers yesterday, the Tampa Bay side secured their spot in the playoff round. The Buccaneers has emerged champion of the NFC South division after their win against the Carolina Panthers with a breathable thirty to twenty-four victory.
The Tampa Bay Bucs went off with a slow start n this game. However, with the sublime performance by Mike Evans they managed to win the game ultimately. The player got a two hundred yard performance with three tds and pulled his team out of the swamp to gift them a spot in the playoffs.
Tom Brady, the star of Tampa Bay Buccaneers has had an amazing game where he finished with 3tds and 432 yards. All of his touchdowns to Evans on thirty four out of forty five passes. Brady also got a TD in the fourth quarter of the match.
Tampa Bay Buccaneers Got Their Playoff Spot As NFC South Champs:
The bucs did suffered a little defensively in the game at times. However, they stood up and got some amazing turnovers and some crucial stops that turned the game into their favor again. The Tampa Bay Buccaneers even forced an error in q4 that brought the game back to their favor. The Bucs fans are thanking Nelson as it was for him that they got to dream again.
The victory allows the Tampa Bay Buccaneers to claim the NFC South, move to.500 heading into the last game of the season, and concentrate on the postseason. They'll probably face a difficult opponent in the opening round, but given how they've performed lately, they should be viewed as a serious danger to go further.