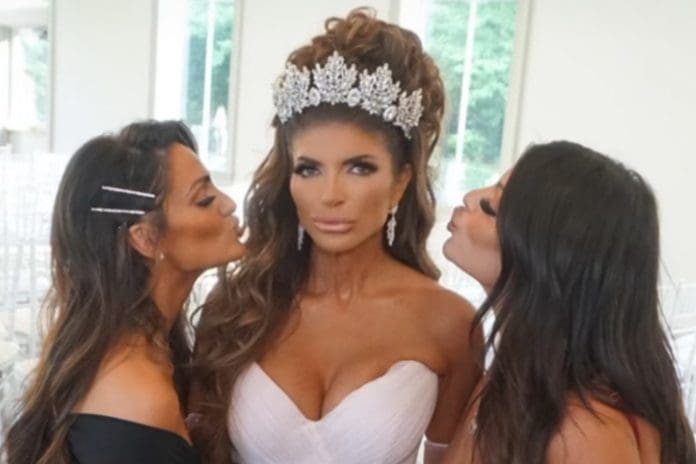 A few days ago Teresa Giudice and Melissa Gorga came face to face to dissolve an issue. That backfired Giudice. She was hoping she could possibly make peace with her would be sister in law. Melissa Gorga completely denied her face, she wouldn't be attending her wedding. It was her d-day and her parents couldn't be more proud. Sadly they are not alive to be with her. This is heartbreaking for her.
Teresa Giudice Gave Wedding Surprise To Her Guests
Teresa Giudice is a mother of two. Who took her daughters to bridal appointments. Later surprised them with the customized veil for her. Her veil says Sempre Insieme, which means always together. This dedication to her parents. Teresa Giudice's mother died in 2017 and her father in 2020. Any bride could miss their parents on their d-day. Her daughters cried happy tears, the veil made them emotional.
Later it made Teresa Giudice's husband cry. Even after all the drama, Melissa Gorga didn't show up at Teresa Giudice's wedding. She was spending time with her daughter, Antonia. She was learning to drive. Later the mother-daughter made a quick stop at the drive-thru.
Antonia proved to be a mature woman, who assured her mother of the ongoing drama. She further made sure she is following whatever her parents taught her. She maintains a good relationship with Teresa Guidice's children. They are her cousin and she loves them.
Where Giudice is getting married.Signing up for forever. In the lives of other Real Housewives of New Jersey, things were falling apart. Teresa Giudice's sister-in-law was giving advice to her daughter. Whereas, Jennifer Aydin and Margaret Josephs were fighting over a silly matter. This made Melissa Gorga uncomfortable, she had hidden her face with a napkin.