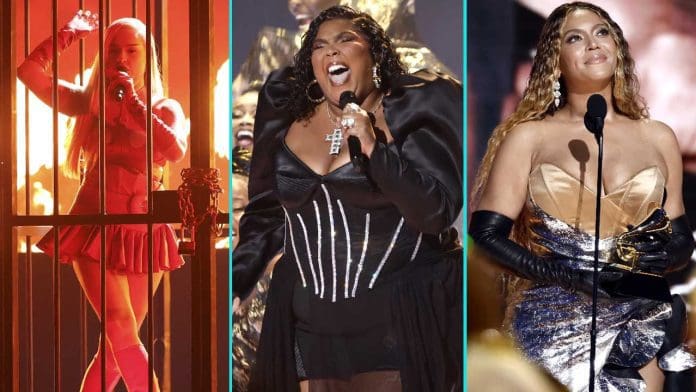 Met Gala specifically holds the theme but seems like the 2023 Grammy Awards isn't far behind. All the artists including their beau have arrived with something amazing and worth talking about. Fashion got a field to show off the art. And Art has its own place in the industry be it music or acting. This is a competition, of course, the best and the worst dressed are there. And the most controversial dress. However, the artists never fail to surprise the fans.
2023 Grammy Awards Is All About Fashion Game
Who is the winner and who is not is hard to decide right away. But there are some outfits that stunned people. A bunch of artists won the 2023 Grammy Awards, among them is everyone's favorite Harry Styles, Lizzo, and Doja Cat was nominated for a handful of awards, Taylor Swift missed another chance for her music video 'all too well'.
Before receiving the 2023 Grammy Awards Harry Styles, he performed As It Was, wearing a pale pink sequin fringe one piece. When he first appeared at the 2023 Grammy Awards he was wearing an open vested dungaree, not a regular one.
Not to miss five times grammy winner singer Shaina Twain's hair matched with 2023 Grammy awards red carpet. Taylor Swift looked stunning in her royal blue sequin dress, proudly showing off her abs. Whereas, Bebe Rehxa appeared at the 2023 Grammy Awards wearing a pink plunging gown with hand gloves and diamond pieces of jewelry. She was nominated for her album with David Guetta I'm good (blue) unlike her dress. Sam Smith set the stage on fire with Unholy's song along with their background support. With a fiery red outfit. It was Megan Fox's first Grammy award ceremony, she appeared with her fiance Machine Gun Kelly in a white gown and he wore a metallic suit, of course catching everyone's eye and outshining them.