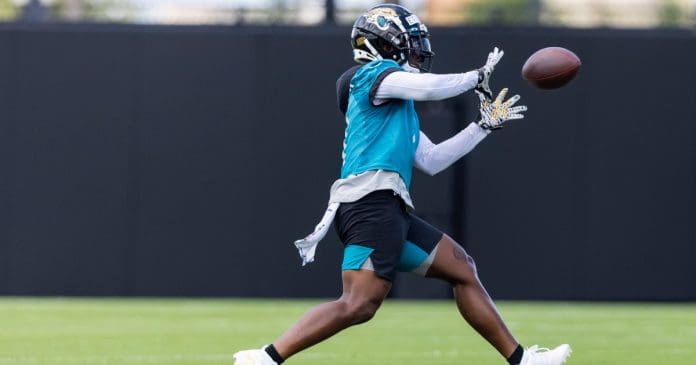 Running back Travis Etienne will miss the full season in 2021 due to a Lisfranc injury. The player from the Jacksonville Jaguars was placed on the injured reserve on Tuesday. 
He is expected to undergo surgery for the injury as gathered by our sources.
Injury Has Ruled Travis Etienne Out Of The Season
Travis Etienne suffered the injury on his left foot while playing against the Saints. They lost the game 23 to 21. Etienne had to undergo some checks and it showed the full extent of the injury.
Travis Etienne had caught a pass for three yards and ran with it for a yard before he got hurt. Travis will not return this season as he was enrolled in the IR before the 53-man roster was made.
Etienne was drafted by the Jaguars as the 25th player, overall. 
Urban Meyer planned to have Travis Etienne play at receiver just like the way he utilized Percy Harvin at Florida. Travis had one carry in the game against the Browns it would have been a big play if Minshew had not overthrown it to him. Meyer expected Etienne to bring an element of surprise in the offense as the team ranked last in terms of combined rushes (20+ yards) and pass plays (30+ yards). They only had 16 which was quite low compared to the leaders, Baltimore Ravens. 
Travis Etienne was the topmost explosive player in the last 4 years and led the tables in college football with 55 runs (20+ yards) and rushed for 2,053 yards, including 21 touchdowns. He also boasted of 6 receptions (30+ yards) which gave him 61 explosive plays. The Jaguars as a team only had 97 plays from '17 to '20. Travis Etienne had left Clemson while he was the all-time lead rusher with 4,752 yards in his name.