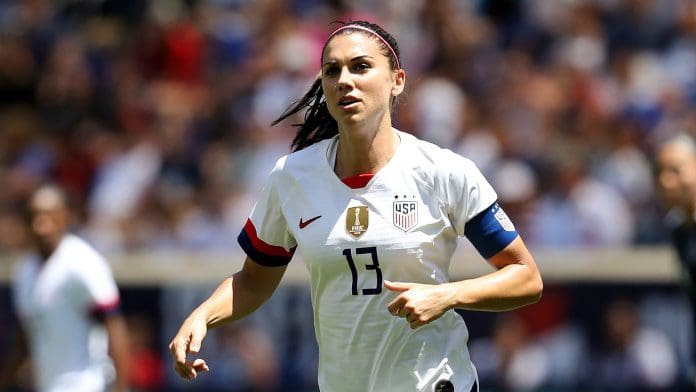 In the opening game of the CONCACAF W Championship on Monday night, the USWNT trounced Haiti 3-0 thanks to two goals from Alex Morgan in the first half. The competition chooses the four direct slots for the area in the 2023 Women's World Cup, which Australia and New Zealand will co-host. For the United States, which has won the last two World Cups, Midge Purce also scored.
In the 16th minute, Morgan gave the Americans the lead with a heel flip off a feed from Mallory Pugh that evaded Haitian goalkeeper Lara Larco. The second goal was scored by Morgan on a header in the 23rd minute.
USWNT's Alex Morgan Scored Twice
In the 42nd minute, Haiti was given a penalty, but Roselord Borgella's shot struck the post and sailed away. Borgella was awarded a red card in the 45th minute, but the decision was overturned after video review, and she was instead given a yellow.
In the 78th minute, the USWNT appeared to score on their own goal, but Megan Rapinoe was flagged for offside. In the 84th minute, Purce scored her fourth goal for her country. Although there are still certain areas that need improvement before the Americans' match against Jamaica on Thursday, USWNT coach Vlatko Andonovski commended Morgan and expressed satisfaction with the outcome.
The eight teams competing in the W Championship are divided into two groups. Each group's top two finishers receive invitations to the World Cup. Each group's third-place club advances to a 10-team intercontinental playoff, which will take place in New Zealand in February. A berth in the 2024 Olympics is also awarded to the W Championship champion.
A World Cup or Olympic qualification has never been achieved by Haiti. Khadija Shaw netted in the eighth minute of the group's late game, and Jamaica held on to beat Mexico 1-0.
The other group consists of Trinidad & Tobago, Costa Rica, Panama, and Canada.