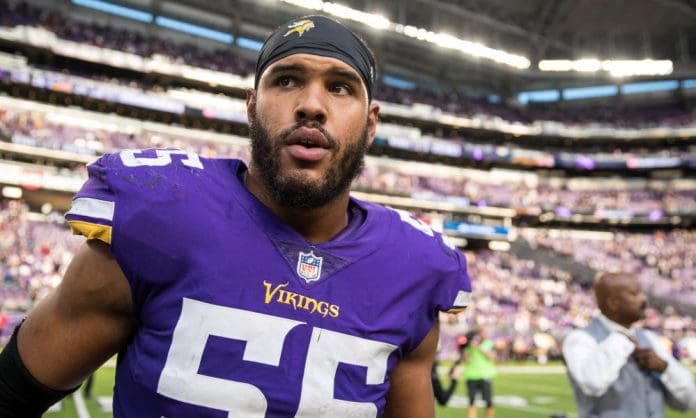 The Dallas Cowboys and veteran linebacker Anthony Barr have agreed to a one-year contract after many months of negotiations.
Todd Archer of ESPN was told by a source that the contract is for $2 million but has a $3 million cap.
Micah Parsons will continue to play linebacker and pass rusher for the Cowboys in 2022, so the organization needed to get some seasoned support for Leighton Vander Esch because there was no other linebacker on the roster with really extensive experience.
Anthony Barr Will Join The Cowboys For A Year
Jabril Cox, a second-year linebacker for the Cowboys, recently had ACL reconstruction. Although he has had a fantastic start, he has skipped the last two days of work, but no one seemed to be worried about his situation. Barr, a four-time Pro Bowl selection, finished the 2017 season with a career-high three interceptions, 2.5 sacks, and 72 tackles, the latter of which ranked third among his eight seasons with the Minnesota Vikings.
After having surgery on his right knee, the 30-year-old linebacker played in 11 games after missing the first four games of the 2021 season.
Anthony Barr altered his contract in March of last year to enable him to become a free agent following the 2021 campaign. Barr's compensation and incentives were cut from $12.9 million to $10 million with a fully guaranteed base pay of $9.4 million after missing the last 14 games of 2020 due to injuring a pectoral muscle versus Indianapolis. Barr called defensive plays on the field and wore the green dot on his helmet for the bulk of his career in Minnesota.
When Anthony Barr last entered the free agent market in 2019, the linebacker verbally agreed to a contract with the New York Jets that would've guaranteed him $15 million annually for five years, but he quickly signed back with the Vikings for a far lower sum.
In eight seasons, he has 495 tackles, 17.5 sacks, 8 forced fumbles, and 5 interceptions.