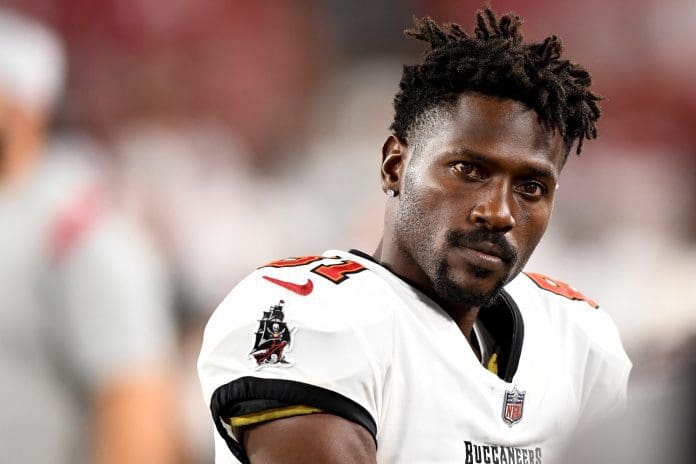 Nearly 2 months ago, Antonio Brown, the Super Bowl-winning wide receiver, announced that he would be retiring from football. In a short while after actually leaving NFL, Brown announced his ownership of Albany Empire – a National Arena League. Eddie, his father, was a former player on the team. On April 28th, the wideout who has been All-Pro for 4 times, posted on Twitter that may be ending his retirement.
What Is Up With Antonio Brown?
In the tweet in question, Antonio Brown posted a photograph of himself wearing a jersey of the Baltimore Ravens. Brown, however, is not presently on the roster of the team. Moreover, there have been no indications that Baltimore is looking to or wants to get Antonio Brown on board before this year's season starts.
Antonio Brown wrote that he was excited over returning to NFL in the present year as he also included #RavensFlock. There have, however, been previous links between Baltimore and Brown. Lamar Jackson has strongly advocated for the addition of Brown to the Ravens' roster. On April 27th, Jackson had become NFL History's highest-paid player. During the offseason of 2020, Antonio Brown and Jackson spent some time exercising together.
In 2020, Antonio Brown eventually went to Tampa Bay Buccaneers where he went on to win his first-ever Super Bowl. During that time, Jackson had described Brown as a down-to-earth and cool guy who is passionate about the sport that is football.
The last time Brown played for an NFL team was in a Bucs game during January 2022 where he had to leave the field. Bruce Arians, the coach, had told reporters after the game that it was the final game as a Buc for Brown. Since that departure, Brown had been embroiled in a number of issues off-field, including being named on a warrant over not paying child support.