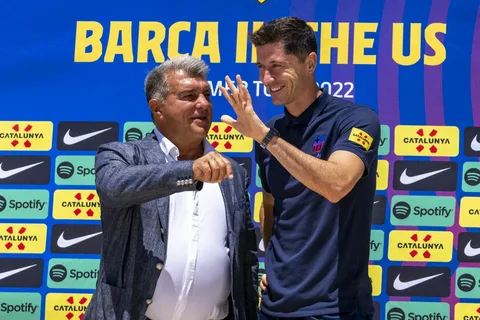 In an effort to reduce municipal debt, Barcelona has sold the second bundle of its tv rights to an American investment company for an unknown sum.
Barcelona said on Friday that it has reached a 25-year agreement with Sixth Street to sell an additional 15% of the revenue from TV rights to Spanish league games. After Barcelona and Sixth Street reached an initial agreement last month, this gives the investment company a total of 25% of the club's TV rights for La Liga games. Barcelona said that the initial agreement for 10% of the TV rights would net the team 207.5 million euros ($210 million), but it withheld the sum Sixth Street would pay for the subsequent 15%. Following the original agreement, they acquired Raphinha from Leeds and Robert Lewandowski from Bayern Munich in deals that might total 110 million euros ($111 million).
Barcelona Sells Another Batch Of TV Rights
They received the club members' consent in June to sell 25% of its Spanish league TV rights for an estimated price of about 450 million euros ($457 million).
The organization led by president Joan Laporta also disclosed last month that it is looking for a buyer for 49 percent of the business Barcelona runs in order to discuss licensing and merchandise deals. From that perspective third agreement, the club aims to get between 200 and 300 million euros ($203-304 million). In order to "create revenues and have positive equity," according to Laporta, harsh actions were required. They are now struggling to regain its financial stability after its debt rose to 1.3 billion euros, or around $1.37 billion. Barcelona's finances are said to have been destroyed by the enormous salary and transfer fees paid by Laporta's predecessor, Josep Bartomeu.