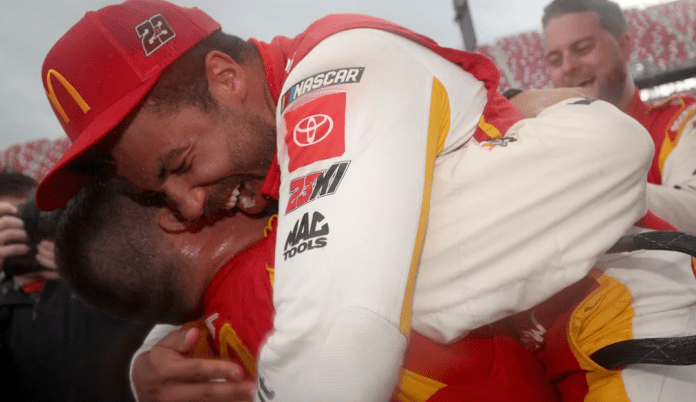 Following Sunday's NASCAR All-Star Race, Bubba Wallace gave the bird to the camera seconds before being interviewed by Jamie Little of Fox Sports.
Bubba Wallace of 23XI Racing was ready to be interviewed by Jamie Little of Fox Sports in the pits after placing second in the NASCAR All-Star Race at North Wilkesboro Speedway on Sunday evening behind Kyle Larson of Hendrick Motorsports.
The driver of the No. 23 Toyota flipped the bird visibly and very blatantly for everyone watching Fox Sports 1 and others nearby to see as he appeared to change the top of his fire suit. He gets an E at best for effort if he was genuinely attempting to conceal it by "adjusting" his outfit.
Bubba Wallace Got Away Scot-Free
Some demanded that Wallace be punished since it appeared as though he was flipping off the audience. Although there were whispers on social media that it was meant for a few supporters in particular, it didn't seem to be out of annoyance at another driver.
NASCAR won't punish Wallace in any manner for the "inappropriate" gesture, according to Fox Sports' Bob Pockrass. This indicates that the sanctioning organization believed Wallace had been making the gesture more as a joke to a friend than as something that was meant to be insulting.
Given how NASCAR has handled similar incidents of drivers turning the bird while being filmed, the choice isn't all that surprising.
Having said that, NASCAR's justification for not punishing him—that "it wasn't done maliciously"—is odd. They have previously allowed drivers off the hook for the same behavior when it was, in fact, done maliciously and obviously intended for another driver in response to an unpleasant event that occurred on the race circuit.
All things considered, Bubba Wallace deserved no more than a smack on the wrist for this action.