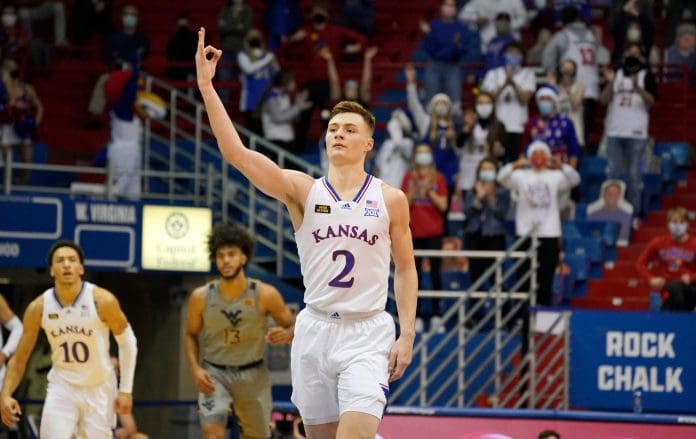 Christian Braun, a former Kansas guard, made the wise choice to leave the Jayhawks following his junior year, and it paid off on Thursday when the Denver Nuggets picked him with the 21st overall pick in the NBA Draft.
He will be starting his professional career with former colleague Ochai Agbaji, who was selected by the Cleveland Cavaliers with the 14th overall choice.
Christian Braun Formerly Played For Kansas Jayhawks
Since Devonte Graham and Svi Mykhailiuk were picked in the 34th and 47th picks of the 2018 NBA Draft, Kansas has not had two players drafted in the first round since those two players. The last instance the Jayhawks had 2 players selected in the opening round was in 2014 when Joel Embiid and Andrew Wiggins were selected by the Philadelphia 76ers and the Cleveland Cavaliers, respectively. Agbaji and Braun are the 86th and 87th players selected by an NBA club from the institution and the 26th and 27th players selected overall who played for Kansas coach Bill Self.
The selection range for Christian Braun was less definite than it was for Agbaji since experts predicted he would go in the late first- or early second round. Last year, the Nuggets had a 48-34 record and made the playoffs.
In 1998, when Raef LaFrentz was picked with the third overall pick, the Nuggets last selected a player from Kansas.
Christian Braun recorded 14.1 points & 6.5 rebounds in 34.4 mins per game as a junior, earning second-team All-Big 12 honors. With a 49.5 field goal percentage and a 38.6 percent 3-point shooting success rate, he was second in the Big 12 with those stats.
Last season, Agbaji was named the undisputed Big 12 player of the year. He led the league with 18.8 points per game, averaged 5.1 rebounds, shot 47.5 percent from the field, including 40.9 percent from 3-point range, and played 35.1 minutes per contest.
In school history, he graduated from Kansas and rated 15th with 1,652 points, fourth with 250 made 3-pointers, and ninth with 3,978 minutes played.
Even though they are eligible, teammates Mitch Lightfoot, Remy Martin, and David McCormack are not expected to be selected.