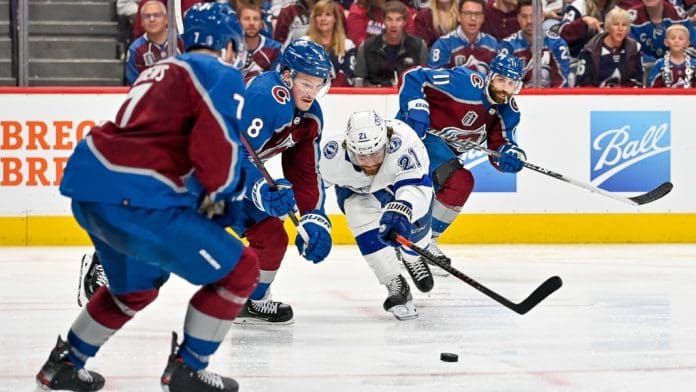 The first game of the Stanley Cup Final was a major thriller, and the Colorado Avalanche clinched the win with a score of 4-3 over the Tampa Bay Lightning. The second game, though, was a complete and total domination by the Avalanche as they routed Tampa Bay 7-0. The series is currently balanced heavily on the side of Colorado, and Tampa Bay could need a miracle to come out of the rut and secure the trophy as the next couple of contests would take place on their home ground. But, the main question is, what did the second game tell us about the teams?
Colorado Avalanches Dismantled Tampa Bay In Second Game
As it can be understood from the scoreline, the second game was utter domination by the Colorado Avalanche. The team completely dismantled Tampa Bay in Game 2. In fact, they were better than the Lightning in almost every single category- be it 5-on-5, special teams, offense, goaltending, defense, races, battles- they excelled in it completely. One could even say that it was quite surprising to see a team like Tampa Bay get wrecked so easily. 
To understand the horror Tampa Bay faced at the hands of the Colorado Avalanche, we need to go back in time. The Lightning was 9-2 in the second game of a series dating all the way back to 2020- when they began their back-to-back Stanley Cup run. But, in a span of 11 games since then, they had never let a team score more than 3 goals in a single game. In those games, Andrei Vasilevskiy had a save percentage of .938- in the second game against Colorado, his percentage went down to .774. 
Also, one cannot deny that the transition moves of the Colorado Avalanche completely threw Tampa Bay Lightning off. The team from Colorado went on to create quite a lot of Grade-A chances in the very first period from odd-man rushes.