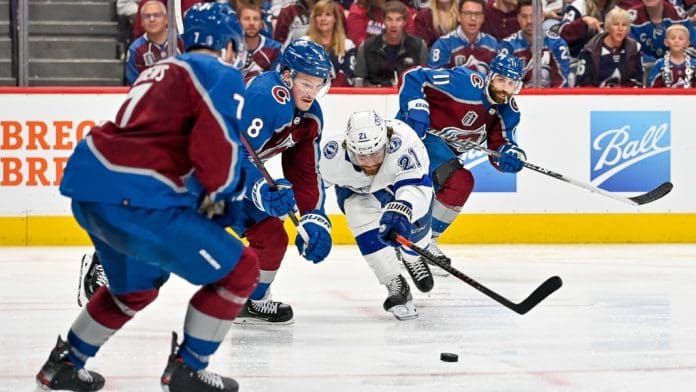 Colorado Avalanche When last hung their Stanley Cup Banner in Denver, most of their players were wither toddlers or pre-schoolers.
This Wednesday, the Colorado Avalanche with some amazing records in their books finally broke the deadlock as they enter in the Stanley Cup, as the team finally raise the Stanley Cup championship banner yet again in their home game after Colorado Avalanche win against Chicago Blackhawks.
Fans stood up as Bernie, the Colorado Avalanche mascot, went skating around the ice carrying a huge "Hockey is Back" banner, like he did several times throughout the years. When the coaches and players were announced, they all received thunderous applause. Rantanen, MacKinnon, Johnson, Francouz, and MacKinnon all had the honour of being the loudest.
Many fans were shocked when injured reserve Colorado Avalanche skipper Gabriel Landeskog made his debut. When Landeskog skated onto the rink in his full body gear, he was greeted with a standing ovation.
Colorado Avalanche Finally Back To Stanley Cup: Fans Raise Banner:
When Landeskog seized the Stanley Cup & raised it all over his mind, it's possible there was no louder applause that night. He then placed the prize on the ground and stood with his colleagues to witness the flag ascend into the sky.
Defenseman Johnson of the Blackhawks was among the players that sat inside the background. It was a part of the champion squad from the previous year. Again for bulk of the event, he sat on the sidelines before joining his old teammates. To witness the banner's placement alongside the team's earlier championship banners from the 1995–1996 and 2000–2001 seasons, all of them remained arm in arm.
Every ceremony to raise a flag is met with a certain amount of expectation. It began during winter meetings again for Colorado Avalanche. Concerns about a night that was planned for years greeted players as soon as they entered a new changing room. The celebration proceeded as the players entered the arena and participated in an event that saw players walk down a red carpet while being surrounded by supporters.