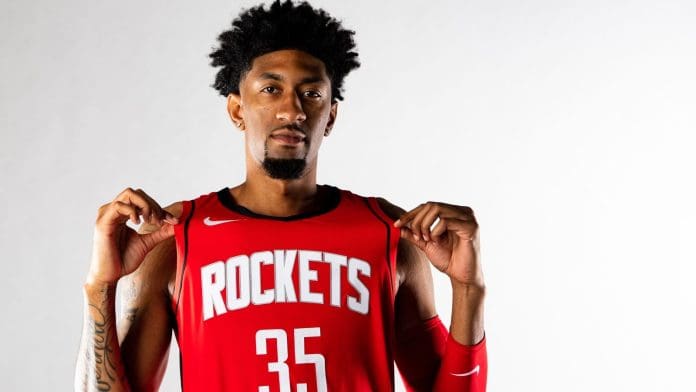 The Dallas Mavericks fulfilled their offseason need for a center and succeeded by picking up Houston Rockets' Christian Wood by trading the 26th overall pick in the 2022 NBA Draft, Boban Marjanovic, Trey Burke, Sterling Brown, and Marquese Chriss to the Rockets. Wood has been the Rockets' top scorer and also the top rebounder. In the last season, the 26-year-old has averaged 17.9 points plus 10.1 boards a game.
The Dallas Mavericks recruit was among just 9 players with 17 points at least on average plus 10 rebounds. He joins the likes of Joel Embiid of Philadelphia and Giannis Antetokounmpo of Milwaukee, and Denver's Nikola Jokic, a two-time MVP.
Dallas Mavericks released Trey Burke, Boban Marjanovic, Marquise Chriss, and Sterling Brown to Houston. They were all in reserve roles and the 26th draft pick this year.
Houston will acquire flexibility in their roster by acquiring these players, losing only Wood to Dallas Mavericks. It also allows them three 1st-round picks for the year, strengthening their selection at 3 and 17.
The entry of Wood allows Luka Doncic of the Dallas Mavericks the freedom offered by a front-court running mate, something he desperately needs at the front court even since Kristaps Porzingis left the team. Wood is the most vibrant and dynamic among the pick-and-roll player the Slovenian has partnered with. The Dallas Mavericks strongly favor a pick-and-roll system of offense.
Dallas Mavericks 7the Team In 7 Years
Dallas Mavericks will be the 7th team in 7 years that Wood has joined after the 76ers, Bucks, Hornets, Pelicans, Pistons, and the Rockets, where he moved through a sign-and-trade with $41M.
In the first season at Houston, Wood averaged 21 points plus 9.6 rebounds, which is his career-best. He is also adept at outside shooting, having connected on a total of 131 three-pointers in the current season. It matches his overall score from the combined previous 2 seasons.
The  Mavericks were defeated by the Warriors in the finals of the W. Conference. It marked their best playoff run with Doncic at the fore.