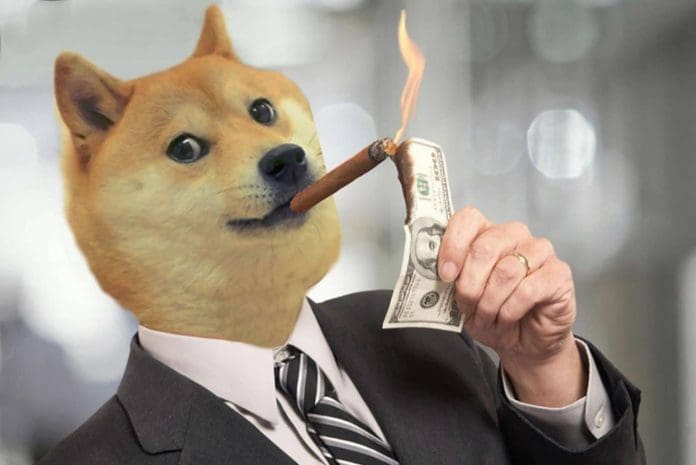 The head-and-shoulders pattern emerging on Dogecoin charts suggests a lack of upside conviction among DOGE traders.
The brief Dogecoin price rally last week following Tesla CEO Elon Musk's bid to buy Twitter appears to be fizzling out, with DOGE closing the week over 8% higher. 
Its price dropped to $0.142 on April 17, three days after peaking out locally at $0.149. The coin correction, albeit modest, increased the potential to trigger a classic bearish reversal pattern with an 85% success rate of reaching its downside target. 
The DOGE Price Looks At Drop Under $0.10
Dubbed "head and shoulders" (H&S), the pattern appears when the price forms three peaks in a row, with the middle one (the "head") between the other two, which are of almost equal height and are called the "shoulders."
These three peaks hold above a common support level called the "neckline." As the theory goes, the price typically breaks below the neckline after forming the third peak, or the right shoulder, and falls by as much as the H&S's maximum height — i.e., the distance between the head's top and neckline.
It appears this coin has been forming a similar structure at least since March 24. The cryptocurrency now could drop to the neckline after forming its right shoulder, followed by a full-fledged bearish breakout, as shown in the chart below.
As a result, the probability seems higher that it will correct toward its H&S neckline near $0.132, down about 7.5% below April 17's price. The level coincides with DOGE's 50-day simple moving average (50-day SMA; the blue wave), thus providing additional support.
A decisive breakout move below the support confluence could risk triggering the H&S setup, with the downside target sitting below $1, down almost 30% below April 17's price.
Interestingly, the target appears close to the lower trendline of the descending channel pattern that has enveloped Dogecoin's price moves since December 2021.