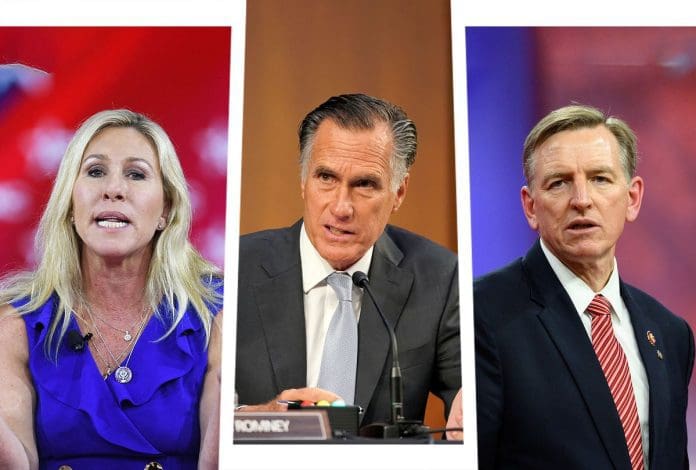 After participating in a white nationalist event over the weekend, GOP Reps. Paul Gosar and Marjorie Taylor Greene are on an island among their Republican colleagues.
Days after Gosar (GOP R-Ariz.) and Greene (GOP R-Ga.) spoke at the extremist-backed America First Political Action Conference, House Minority Leader Kevin McCarthy, Senate Minority Leader Mitch McConnell, and a slew of other Republican leaders condemned party members who engaged with white nationalist groups. As party officials denounce their behavior and refuse to defend them, it's the most significant show of isolation for the two Trump-allied conservatives yet.
GOP Leaders Will Not Tolerate Anti-Semitism Views
McCarthy said he would "have a chat" with Gosar and Greene on Monday evening when asked if he planned to take action against them. McCarthy called far-right fringe organizer Nick Fuentes' comments "appalling," adding that the "words he employs about antisemitism and screaming for Putin are reprehensible."
McCarthy also told CNN that Greene should have exited the stage when Fuentes introduced her over the weekend, telling the audience to give "Russia a round of applause." Following McConnell's displeasure, he issued a series of condemnations.  
A shout of "Putin" was heard in the gathering when Fuentes made his call for Moscow's cooperation during the weekend conference, as Russian President Vladimir Putin's troops attacked Ukraine. Last year, Gosar appeared at the America First conference, where Fuentes called for the "white demographic core" to be protected. The Republican National Committee recently reprimanded Cheney and Rep. Adam Kinzinger (R-Ill.) for collaborating with Democrats on an investigation into the Jan. 6 Capitol brawl, a move that drew fire from McConnell and other Senate Republicans who said the Republicans had unjustly singled out the pair.